By Nick Creely
DDCA TURF 1
GRAND FINAL PREVIEW
HEINZ-SOUTHERN DISTRICTS v MORDIALLOC
WHEN and WHERE:
25 and 26 March, Arch Brown Reserve, Berwick
It was only two years ago that these two powerful clubs last locked horns to decide the Turf 1 premiership.
On 14 and 15 March 2015, Mordialloc claimed their maiden premiership in the top-tier of the Dandenong District Cricket Association, dismantling HSD in utterly brutal fashion.
And on Saturday, the two clubs will reignite their rivalry, in the DDCA's first stand-alone Turf 1 grand final.
With all other divisions done and dusted for 2016/17, the crowd is expected to stream into the Cave to witness history.
Both sides have equal rights to be there, and are at the peak of their game.
For the Bloodhounds, they have become the benchmark since after Christmas, while the Cobras just continue to find a way to win.
In the semis, the Bloodhounds proved a class above a strong Hallam side away from home, with Dimith Mapa Ralage (95) and Chathura Athukorala (66) combining brilliantly in the middle order.
The Cobras took their wares to Park Oval to face Buckley Ridges, but were ultimately far too strong, with Kaushalya Weeraratne starring with a glorious century. They then backed it up by edging out Hallam in an absolute thriller.
Both sides possess equal amounts of talent with the ball, and it is part of the reason they have made it this far.
The key to winning this weekend is the ability to restrict scoring and build dot balls, the benchmark for any potential premier.
Premiership victories are built upon the little moments that often go unnoticed, and unlike regular season matches, team cohesiveness is by the far the most important aspect of the game.
If you are unable to make it to the game, Casey Radio (97.7) will be covering both days of the game, with the coverage beginning at 10.30am on Saturday morning.
There will be several activities taking place over the course of the two days, with host club Berwick organising a Grand Final Sprint over 80 metres, with heats on day 1 and the final on day 2.
Clubs have been requested to nominate up to two registered members as representatives. Prize money for first ($500.00), second ($200.00) and third ($100.00) will be awarded to the relative clubs, with representative runners winning prizes from Berwick CC sponsors.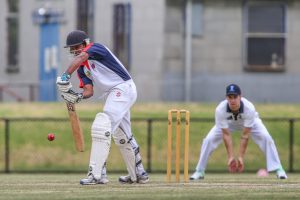 LAST TIME THEY MET:
In Round 9, the Bloodhounds were far too strong for the Cobras, with Leon Kennedy smashing his side to victory with a brutal 72. Chathura Athukorala and Ian Daniel were prolific as per usual with the ball, while Cobras' skipper Matt Cox was the lone hand in their batting innings, making 47.
KEY PLAYERS:
Kaushalya Weeraratne has been quiet through stages of the regular season, but has truly lifted in his two finals to date. In those games, he has scored 111 and 64, while also taking 2/20 and 3/76. For the Cobras to hold the trophy aloft, Weeraratne must fire. His side-kick Michael Davies is a major weapon, while opening bat Brad Downe enters the big-dance in some solid form with the bat in this year's finals series.
For the Bloodhounds, Chathura Athukorala continues to dominate the competition, and has the ability to win a game for his team with either bat or ball. He is built for the finals moments, having played a major hand in their Turf 1 flag two years ago. Ian Daniel and skipper Stuart Squires will need to be on-fire with the new-ball.
PREDICTED TEAMS
MORDIALLOC
Tim Richardson – 10 matches, 182 runs at 20.2
Ian Daniel – 12 matches, 444 runs at 37.0, 30 wickets at 11.2
Jakob Woinarski – 11 matches, 77 runs at 8.6, 12 wickets at 21.8
Cameron Tomkinson – 12 matches, 129 runs at 12,9
Damith Mapa Ralage (wk) – 12 matches, 310 runs at 44.3, 23 catches, 1 stumping
Hari Krishan – 7 matches, 186 runs at 31.0, 4 wickets at 10.8
Stuart Squires (c) – 12 matches, 163 runs at 23.3, 36 wickets at 11.1
Chathura Athukorala – 12 matches, 219 runs at 27.5, 27 wickets at 18.5
Leon Kennedy – 12 matches, 139 runs at 19.9
Brendan Morris – 12 matches, 82 runs at 7.5, 5 wickets at 6.8
Dylan Campbell – 8 matches, 26 runs at 26.0, 4 wickets at 43.5
HSD
Bradley Downe – 12 matches, 251 runs at 20.9
Adam Semmens – 6 matches, 139 runs at 23.2
Robert Davies – 13 matches, 194 runs at 16.2
Kaushyla Weeraratne – 13 matches, 477 runs at 34.1, 29 wickets at 15.6
Matthew Cox (c) – 12 matches, 351 runs at 29.3
Michael Davies – 13 matches, 388 runs at 35.3, 24 wickets at 19.8
Shehan Bandaranayake – 9 matches, 126 runs at 15.8, 8 wickets at 13.1
Brodie Yapp (wk) – 12 matches, 240 runs at 21.8, 14 catches, 2 stumpings
Trevor Davies – 8 matches, 50 runs at 7.1
Lee Brown – 13 matches, 70 runs at 11.7, 22 wickets at 20.9
Jackson Philpin – 5 matches, no runs, 5 wickets at 25.0
PREDICTION:
Take it to the bank, this game will go down to the final 30 minutes on day two. Such is the closeness of both the teams, it is likely that the match will never truly be over until the last run is scored or the last wicket is taken. But Mordialloc's form is hard to ignore, and should be confident of winning their second flag in three years. The powerful Bloodhounds have peaked at the perfect time, and can become one of the most successful DDCA clubs in the last decade with a historic win.
LAST TEN TURF 1 PREMIERS:
2015/16 – Cranbourne
2014/15 – Mordialloc
2013/14 – Parkfield
2012/13 – Buckley Ridges
2011/12 – Berwick
2010/11 – Springvale South
2009/10 – Buckley Ridges
2008/09 – Parkfield
2007/08 – Berwick
2006/07 – Springvale South
What a match this poses to be, and with an expected capacity crowd down in Berwick, the atmosphere is set to be electric.
But who comes out on top, the Bloodhounds or the Cobras?