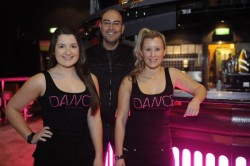 By LACHLAN MOORHEAD
ZAGAME'S, the new owner of the Berwick Springs Hotel and its accompanying nightclub, is getting ready to dance to a new tune this weekend.
The popular Berwick nightclub, formerly known as Blitz, is being officially relaunched by the Zagame family on Friday under the venue's new name – Dance.
The name change is symbolic of a broader cultural shift that Zagame's and its nightlife co-ordinators have instigated at the club in recent weeks in a bid to make it a premier venue in the region.
Dance's Nightlife Director Geremy Lucas, partner of Rob and Vic Zagame at iconic CBD venue Spice Market, was enlisted by the company to oversee the Berwick club's revitalisation.
He said the team wanted to give local patrons a fantastic nightlife venue that the region hadn't seen before.
"When Zagame's took over, Blitz was quite popular but it had a very scattered reputation," he said.
"Zagame's asked me to come and assist them transform the night club into a fantastic new offer."
As part of this transformation, the management at Dance has cultivated a strong relationship with local police.
"We're very transparent in relation to how the place runs," Mr Lucas said.
"We view our association with the local police as a partnership; we're on the same team, so we work together."
The club's changes under Zagame's ownership include new furniture, new food options, new dress codes and revised security management, just to name a few.
While the changes have already begun to be implemented, they will be officially signalled with the launch of Dance's two new club nights which kick off this weekend – Surrender on Fridays, for over 25s, and Almost Famous on Saturdays for 18 to 24-year-olds.
Both nights will include a line-up of special guests and live entertainment, including DJ Ruby Rose this Saturday.
Mr Lucas believes the new names are vital as they give the venue, and its patrons, an identity.
"I think it's important because when you've got a particular market and you're playing a particular style of music it gives your patrons something to identify with," Mr Lucas said.
"It's quite a clear message as to what the night is."
Mr Lucas said feedback to the changes had been positive and encouraging and made the future at Dance look bright.
"The most rewarding thing in this business is watching people engage in a space that you've created, have a good time and appreciate it," Mr Lucas said.