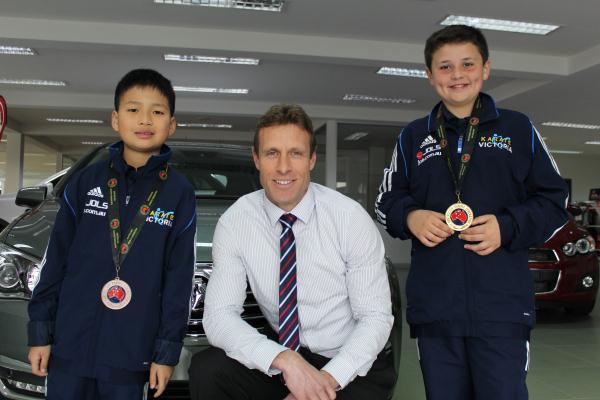 By RUSSELL BENNETT
A BERWICK karate dojo has stamped its reputation as a proven kingmaker in the world of junior competition, with two of its pupils making their mark on the national stage.
Primary schooler's Anthony Johnston and Alex Nguyen recently competed in the National Championships in Tasmania where Anthony, from Beaconsfield, took home a gold medal and Alex, from Berwick, bronze.
Both are dedicated students at Berwick's Ishinryu dojo, which has received a generous sponsorship from local business powerhouse Barry Bourke Holden to help its young members – such as Anthony and Alex – buy some of their expensive equipment, with Victorian team tracksuits alone costing between $300 and $400.
Anthony, in Grade 5 at St Michael's, competed in Tasmania against 11-year-olds from all around Australia.
He is steadily getting used to the bigger tournaments, having climbed towards the top of the karate world with a stunning gold-medal performance at the Oceania Karate Championships in Sydney last year.
He backed that performance up with a gold in the nationals just a matter of weeks ago, defeating the best in his age group, that Australia had to offer.
The result has given him the confidence to kick on. He was ranked first in Oceania last year and is also at the top of the Australian heap in 2013.
He'll continue on to fight at the highest possible level, but admits to being disappointed at karate being overlooked for the 2020 Olympic Games.
His strenuous training regime sees him rigorously hone his craft for up to two-hours per day, five days a week.
Alex, meanwhile, claimed bronze in the individual Under-10 Kata category in what was his first national event.
Remarkably, the nine-year-old – a grade four student at Berwick Primary School – started competing just two years ago.
Fittingly, he fell in love with the sport after watching a Bruce Lee movie.
He was over-the-moon with a bronze medal in his first crack at the big stage.
"I just wasn't expecting to go that well," he said.
"You're always going to be nervous before competitions, but I'm not when I'm inside the ring with my 'gi' on."
Both Anthony and Alex were full of praise for the support they've received from their families and friends, but also – crucially – Sensei Nerida Field at Ishinryu.
The karate championships involve both 'kata' and 'kumite' disciplines.
Kata involves pre-arranged movements against an imaginary opponent, while kumite involves basic fighting with touch contact.
Karate is an ideal sport for those wishing to improve their confidence, self-discipline, self-esteem, fitness and overall physical health.
It does not encourage fighting but promotes self-protection, co-ordination and fitness.
Sensei Field is a Third Dan and has represented Australia in international competition.
"It's an honour seeing my students' achievements and to see them reach their goals," she said.
For more information, call 0412 333 664, drop by 35 Enterprise Avenue Berwick, or visit www.berwickkarate.com.au.