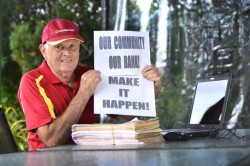 By LACHLAN MOORHEAD
THE pledge co-ordinator for the Narre Warren North Community Bank has put out a call for help, with the project under threat of collapsing.
Trevor Ratcliffe has called an urgent meeting next month to gain support for the community bank, which will fold unless an additional $130,000 in pledges can be raised within three months.
Even more problematic is the project's $2 million business footing, far less than the required $10 million.
Mr Ratcliffe said he and the steering committee had been working on the project for nearly two-and-a-half years and currently had $720,000 worth of pledges.
He urged the people of Casey to contribute to the cause and put out a notice for prospective board members to help save the project.
"We're really falling behind on the business footing. Assets can be opened with the bank now and we need people to get on board," Mr Ratcliffe said.
"The message hasn't really gotten through. We don't have a final date officially set yet but we have been meeting with Bendigo Bank staff and within two-and-a-half months we have to show that this is a viable project."
Community banks are a Bendigo Bank initiative led by volunteers in order to supply grants and sponsorships to sporting and recreation clubs, support organisations and community programs.
If the Narre Warren North project does not receive the required financial backing, Trevor was under no doubt they would be forced to close the operation down.
"It's likely the project will have to fold. We need to reach these figures to get it off the ground, we're so close," Mr Ratcliffe said.
"The other problem we may face is that people who made a pledge in good faith at the time the project started may lose interest by the time it's ready to go."
Following the success of a community bank in Narre Warren South, the Narre Warren North steering committee has spent many hours promoting the establishment of a similar institution on the north side, with over 400 people already pledging their support.
"Bendigo Bank wanted us to test the level of interest within the community. These are pledges to buy those shares," Mr Ratcliffe clarified.
"We try and gauge the current level of interest until Bendigo can see a prospectus, which acts like a product disclosure statement."
The Narre Warren North Community Bank public meeting will be held at 7.30pm on Monday 24 March.
To make a pledge or for more information, contact Mr Ratcliffe on 9700 5061.