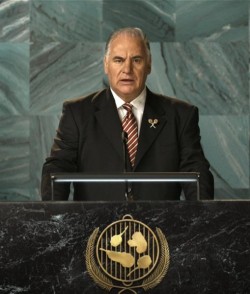 By RUSSELL BENNETT
THERE aren't many 128-game VFL/AFL footballers more beloved throughout Australia than Slammin' Sam Kekovich and this Saturday night he'll bring his unique brand of good old Aussie humour to the Catani Football Club.
Kekovich, now 64, is originally from Myrtleford and knows what it's like to grow up in a small town and just what footy means for the fabric of the community.
"Footy, netball, basketball – it all has the potential to bind communities together," he said.
"They've all got a very communal, social aspect."
Kekovich was contacted through his management earlier this year to be a part of the Blues' sportsman's night and said he would always come along whenever possible to help out a local club.
"It wouldn't cost an arm or a leg to get me there," he said.
"I know what the economic climate is.
"I like to think anyone that will come along this Saturday will have a great night with lots of laughs."
Kekovich said he'd continue with his public speaking engagements long into the future, but it would depend on what the audiences tell him.
"I'd hate to have to get a real job," he laughed.
"I suspect I'm virtually unemployable!"
Oh, and before we forget, Kekovich said he didn't want any vegetarians coming along on Saturday.
"Only lamb eaters or carnivores!" he said cheekily.
Sam Kekovich will appear at the Catani Football Club on Taplins Road this Saturday night. Tickets for dinner and show are currently on sale for $50 and will also be available on the night. Doors open at 6pm.
For more information, call Brian Edwards on 0423 326 245 or send an email to catanifc@bigpond.com.