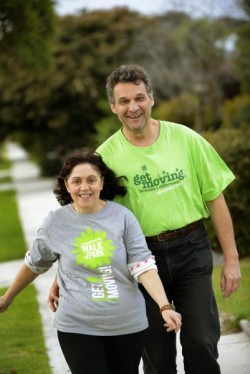 By LACHLAN MOORHEAD
WALK a mile in Marthese's shoes.
Marthese Davies was diagnosed with Parkinson's disease in 2009 and three years later her husband Martin left work to become Marthese's full-time carer.
At the end of this month husband and wife will embark on Parkinson's Victoria's A Walk in the Park at Federation Square, a journey the couple have been involved with since its inception.
And something that makes their personal journey that little bit easier.
"Like most people with Parkinson's, every day is the unknown and you have to just go with the flow so to speak," Martin said.
"Everyone is so different. The Walk in the Park is a very special day and we look forward to it every year.
"Let's hope one day it raises enough attention to get more government assistance."
More than 4000 people participate in the Walk in the Park each year, many of whom suffer from Parkinson's but continue to walk as a means of raising awareness.
Now in its sixth year, the five kilometre walk is the annual fundraising event for Parkinson's Victoria, which aims to raise awareness and funds for research and services that improve the quality of life for people living with Parkinson's in the state.
"Martin and I have done it for all the years it's been going," Marthese said.
"A lot more people attend this one, and a lot more money is made, it's just fun.
"There's 4000 to 5000 people there and half of them would have Parkinson's, so a four kilometre walk is one hell of an achievement."
Close to already meeting its $500 fundraising target, 'Marthese's Marchers' would be keen to exceed their estimate for such a noble cause.
To donate to the initiative, visit sponsor.eventarc.com/sponsor/view/270483/marthese-davies.