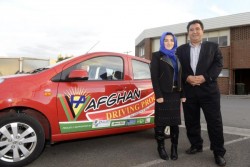 By NARELLE COULTER
AFGHAN refugee women have their hands on the wheel of independence, thanks to an innovative learn-to-drive program.
The Association of Hazaras in Victoria operates the program in Casey and Greater Dandenong.
Backed by funding from the RACV, the program is open to both sexes, but the focus is on helping women get their driving licence.
Participants receive five professional driving lessons before they are handed over to volunteers who continue to help build participants' skills and road sense.
Now in its fourth year, the program received a boost earlier this year with the purchase of a dedicated vehicle.
By the end of the year, 90 refugees will have been behind the wheel.
Secretary of the Association of Hazaras in Victoria Ahmed Saberi said it was particularly important women were taught to drive.
"Many of the Afghan women now in Dandenong came from rural and regional areas where it is taboo for women to drive, so they have no driving experience at all. Men have at least some driving experience," Mr Saberi said.
"It is very important that women can drive because they need to support their children and families. In a traditional Afghan family, the husband works and the women look after the children, which means getting kids to school, doctors appointments and things like that. If they are not able to drive they have to rely on their husbands.
"Driving gives them independence."
Mr Saberi said mobility was also vital for integration and gave women the means to socialise outside the home.
"Being able to drive lets women socialise with other people in their community or with the mainstream Australian community. It does a lot of good for their mental health."
The program was given a futher boost last week, with the RACV announcing an $18,000 grant.
.