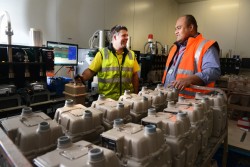 By CASEY NEILL
EMPLOYEES are using their disabilities to their advantage at EDMI in Dandenong.
Operations manager Cameron Bower last year took on five workers through DVJS in Cranbourne to cover extra work.
The three who remain are going from strength to strength.
Dion from Doveton has vision problems, but Mr Bower said that heightened his sense of touch and made him perfect for a role checking crucial parts.
Scott from Hampton Park has autism and works in the packing area with meticulous consistency.
"It's exactly what I want," Mr Bower said.
"Since he started packing I have not had one issue."
David from Kooweerup is deaf and works in the spray painting booth.
"That's no issue for me – all of my employees have to wear hearing protection anyway," Mr Bower said.
EDMI repairs domestic and industrial gas meters and assembles and tests meters and regulators.
"Our core business is repairing gas meters and supply of new for the domestic market," he said.
The company has been in Dandenong for 15-plus years, previously as Atlas Measurement.
Mr Bower came on as operations manager in 2010, and said smart meters could see the business grow in the near future.
"In the UK, we've won part of a tender for 20 million gas meters over about five years. That's all government-legislated," he said.
"Unless government legislation changes here, it's not going to be something that's on a mass roll-out."
Mr Bower had avoided "body shops" in the past, but found DVJS consulted with workers and workplaces to find the right fit for both.
"You're not stuck with that person trying to make it work when really, it's in both party's interests if you separate," he said.
The DVJS service is free and includes government rebates, training and post-placement support.
Mr Bower now works with DVJS employment executive Willie Alefaio to conduct pre-placement trials to assess workers' skills.
"It gives us the confidence to be able to put them forward," Mr Alefaio said.
DVJS, formerly Dandenong Valley Job Support, has been helping people with disabilities to access employment since 1993.
The company also has offices in Narre Warren, Pakenham and Dandenong.