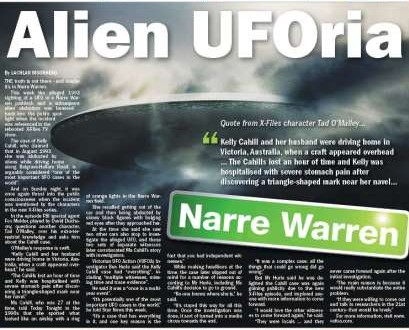 By LACHLAN MOORHEAD
THE truth is out there – and maybe it's in Narre Warren.
This week the alleged 1993 sighting of a UFO in a Narre Warren paddock and a subsequent alien abduction was beamed back into the public spotlight when the incident was referenced in the rebooted X-Files TV show that aired this week.
The case of Kelly Cahill, who claimed that in August 1993 she was abducted by aliens while driving home along Belgrave-Hallam Road, is arguably considered "one of the most important UFO cases in the world".
And on Sunday night, it was once again thrust into the public consciousness when the incident was mentioned by the characters in the new X-Files series.
In the episode FBI special agent Fox Mulder, played by David Duchovny, questions another character, Tad O'Malley, over his extra-terrestrial knowledge and asks him about the Cahill case.
O'Malley's response is swift.
"Kelly Cahill and her husband were driving home in Victoria, Australia, when a craft appeared overhead," he said.
"The Cahills lost an hour of time and Kelly was hospitalised with severe stomach pain after discovering a triangle-shaped mark near her navel."
Ms Cahill, who was 27 at the time, told Today Tonight in the 1990s that she spotted what looked like an airship with a ring of orange lights in the Narre Warren field.
She recalled getting out of the car and then being abducted by skinny black figures with bulging red eyes after they approached her.
At the time she said she saw two other cars also stop to investigate the alleged UFO, and these two sets of separate witnesses later corroborated Ms Cahill's story with investigators.
Victorian UFO Action (VUFOA) Investigator Ben Hurle said the Kelly Cahill case had "everything", including "multiple witnesses, missing time and trace evidence".
He said it was a "once in a multi-year event".
"It's potentially one of the most important UFO cases in the world," he told Star News this week.
"It's a case that has everything in it, and one key reason is the fact that you had independent witnesses."
While making headlines at the time, the case later slipped out of mind for a number of reasons according to Mr Hurle, including Ms Cahill's decision to go to ground.
"No-one knows where she is," he said.
"It's stayed this way for all this time. Once the investigation was done, it sort of turned into a media circus towards the end.
"It was a complex case; all the things that could go wrong did go wrong."
But Mr Hurle said he was delighted the Cahill case was again gaining publicity due to the new X-Files episode, and implored anyone with more information to come forward.
"I would love the other witnesses to come forward again," he said.
"They were locals … and they never came forward again after the initial investigation.
"The main reason is because it would really substantiate the entire problem.
"If they were willing to come out and talk to researchers in the 21st century- that would be lovely."
For more information, visit www.vufoa.com.