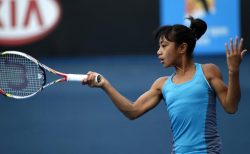 By Nick Creely
A STAR was born on 3 January, with 16-year-old Narre Warren tennis ace Destanee Aiava becoming the first player born this century to win a WTA main-draw match.
When the News talked to Destanee for the first time way back in 2012, the then 12-year-old spoke about the goal of becoming the "world number one".
And now Destanee, in 2017, is turning heads with her natural flair with the racket, and her powerful build and natural poise are not going unnoticed.
In the match on 3 January, in front of a crowd exceeding 2000 people, Destanee came up against American Bethanie Mattek-Sands, and downed the Olympic doubles gold medallist and revered singles player in a three-set victory 2-6, 6-3 and 6-4.
In fact, the game itself was met with some disruptions, with heavy rain the night before forcing play to be suspended.
But when she resumed, it was almost as if a switch-flicked, and from there, Australia saw the talent that has been working behind closed doors to achieve her ultimate goal – being world number one.
Not many people watching her strut her stuff with her imposing serve would have given her much of a chance against a woman double her age,
Currently ranked 387th in the world, the win was simply stunning, with many people not even knowing who the young star was.
But now they do.
Immediately after the win, Destanee spoke about the game, and the quietly spoken individual from the south-eastern suburbs of Melbourne talked about the challenges of the match, and her gratitude to be in this position, all with a beaming smile across her face.
"I haven't really looked at my phone since the end of the match, I've mainly just talked to my Mum, and she just said good job, and then took me to the practice court after," she chuckled.
"I struggled a bit at the end but I got through it – a lot of things were actually going through my head, I was pretty nervous playing in front of that many people – it was the biggest crowd I've ever played in front of.
"I was a bit inconsistent through the match, but it feels pretty good to be known and supported by so many different people – I just want to go out there and enjoy the experience.
"When I walk in its just crazy, there are people that I have seen on TV before just there and it's crazy."
But Destanee's dream run came to an end the following day, going down fighting 6-4, 6-3 to world number nine Svetlana Kuznetsova, bowing out in 70 minutes.
But what's next for the prodigious young talent?
Well she has qualified as one of seven wildcard entries for next week's Australian Open, after winning the 2016 18/U Australian Championship, and will now become the only player born in 2000 or later to participate in the main draw of a Grand Slam tournament.
It has taken Destanee just four years since stating she wants to become the "world number one", to playing on one of the world's biggest stages, so in another four years, perhaps she will be able to finally achieve her ultimate goal if not before.