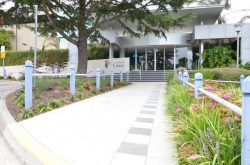 By Cam Lucadou-Wells
CASEY'S Access and Inclusion Advisory Committee has been disbanded because it pursued "peripheral, meaningless issues", says mayor Sam Aziz.
The committee, made of appointed community volunteers and two councillor delegates, had given the council advice on areas such as indigenous culture, religious diversity, age-related, sexual orientation, social and economic disadvantage and disability issues.
Casey councillors voted to disband the committee and review its terms of reference at a 17 January meeting.
Cr Aziz said the committee was being "revitalised" because he'd received "negative feedback".
He accused some committee members of pursuing "strong political agendas interfering with the machinations of the committee".
Some members were focusing on "peripheral, meaningless issues" such as the State Government's Safe Schools program, he said.
"I don't think (the Safe Schools issue) is a healthy way to spend their time.
"It's not something the council administers and necessarily agrees with. It's a State Government issue."
The committee was better to focus on advocating on issues such as disability access to footpaths, roads and buildings, he said.
Cr Aziz said he couldn't promise if sexual orientation issues would be still covered by the new committee.
"We would have to wait for the report back to council."
Committee member Leanne Petrides said she didn't know why the committee was disbanded but hoped to be able to re-apply to its next incarnation.
"I hadn't heard any concerns about decisions we've made or the way the committee was going at all.
"There were people from diverse cultural backgrounds. We had a good mix of men and women of all ages"
The Cranbourne Information and Support Service executive director said the committee had worked closely with the council on facilities such as Livvi's Place disability-accessible playground and an Aboriginal community gathering place in Doveton.
It had also advocated on access to footpaths and parking bays, and ageing positively intiatives.
Casey connected-communities manager Jo Smale said it was timely to review the committee's role, given the "resounding" support for community inclusion in last year's Casey Next survey.
The committee's terms of reference were adopted by Casey in 2014, and had not been reviewed since, Ms Smale said.
"The current committee was critical to the development of the Diversity, Access and Inclusion Policy in 2016 and council appreciates the contribution of outgoing members."
The review outcome is expected to be reported to the council in April.
Ms Smale said the council would then seek expressions of interest from prospective committee members.