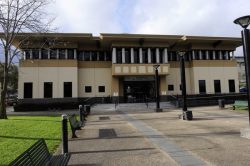 By Cam Lucadou-Wells
A Narre Warren man – who owes more than $14,000 in court fines – has told a court he has started up a financial-counselling business.
The 39-year-old had instructed his lawyer at Dandenong Magistrates' Court on 20 March he'd been unable to complete his community corrections order because he was busy starting up the business.
"He works with people in significant amounts of debt," his lawyer said.
"He assists them in getting financial stability."
The man, who was not a registered financial counsellor, was still collecting a New Start allowance, the court heard.
The business was "just starting to take off", the man's lawyer said.
His lawyer also told the court the accused had been traumatised from being victim of an April car-jacking – in which fire-arms were used.
Police investigations were pending into the car-jacking, but the man claimed he was too scared to go to his Corrections appointments after seeing one of the alleged offenders at the offices, the court was told.
"He's not sure if anyone's been charged (with the car-jacking)," the lawyer said.
"It's something significant in someone's life and could cause someone to take a backwards step."
The man had been arrested by police on 18 March on four outstanding warrants for failing to appear at court, the lawyer said.
"He's been focusing on his business and personal life rather than prioritising his court requirements," the lawyer said.
The man pleaded guilty to speeding, driving while suspended and drug-driving when intercepted by police on the Dandenong Bypass at Keysborough on 28 May.
He also pleaded guilty for drug possession after being found by police during a raid of a Noble Park house of a suspected drug trafficker in October.
He later told police he had no idea about a small quantity of 'ice' found in a packet of cigarettes in his jacket, though he correctly identified the drug.
His lawyer conceded the man didn't receive a positive report for failing to complete the corrections order imposed in February 2016.
The man claimed to have stopped using drugs from September without engaging in formal treatment as part of his order.
Magistrate Pauline Spencer noted the man had been charged with possessing methamphetamine in a raided house a month later.
"I'm finding this rather incredulous, I must say," Ms Spencer said.
She said much of the man's version of events "doesn't make a lot of sense", but if it was, he should be able to complete a new corrections order.
The other version was that the man was still struggling with a drug addiction, had not been engaging in treatment and had not attended court.
"I don't need to know the answer to that," Ms Spencer said.
"I don't have a drug screening (for you). Everyone says they're not using drugs when they're in custody.
'It's up to you how you play it from here on in."
The man was fined $1000 and reinstated on a 12-month community corrections order with 160 hours of unpaid work, drug treatment and rehabilitation.
His licence was suspended for three months.