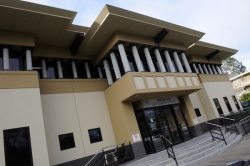 By Cam Lucadou-Wells
A man found sleeping in his car with drugs, guns and a tomahawk axe in Fountain Gate shopping centre's underground car park has been jailed for six months.
Anthony Tay, 36, was wanted on five warrants when he was discovered by police about 2.50am on 6 January, Dandenong Magistrates' Court heard.
In his car was found the small axe and five blue pills as well as a fold-up knife, five shot-gun cartridges and two firearms.
Tay later told police he had the tomahawk for his protection but didn't know of the fold-up knife hidden behind the car's sun visor.
One of the guns was home-made by an unnamed friend. Tay told police he intended to try out the firearm.
Tay had also been arrested at Keysborough Hotel car park with a block of heroin in his bag in the early hours of 23 February 2016.
He told police he'd bought the substance for $800 that night, and injected it in his neck.
On 24 October, Tay was found with 0.1 grams of heroin by police raiding a Dandenong home.
Tay told police he'd bought the drug after "missing" his methadone. The heroin would tie him over rather than risking a significant relapse, his lawyer told the court.
"I'm not saying it's a responsible decision," the lawyer said.
"It can be differentiated from a client turning a bender."
A defence lawyer said Tay's offending was in context of a long-standing heroin addiction for the past 20 years.
Tay had been on a methadone program for the past decade. He had been most recently living in his car after losing his job and relapsing, the lawyer said.
His lawyer submitted for a corrections order rather than a drug treatment order at Dandenong Drug Court. The more onerous DTO would set Tay up to fail, the lawyer said.
Magistrate Pauline Spencer noted even a drug treatment order wasn't enough to hold Tay in the past.
She said Tay didn't establish the "exceptional circumstances" to prevent the invoking of his six-month suspended sentence.
His six months' jail will be followed by a six-month treatment-based corrections order with judicial monitoring.