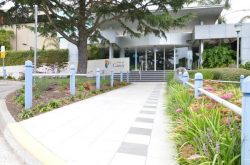 By Cam Lucadou-Wells
Casey has declared it is "strongly" opposed to any proposed safe injecting rooms in the municipality.
Councillor Susan Serey, who introduced the motion at an 18 April meeting, said Cranbourne had been mentioned in State Parliament as an illicit-drug hotspot.
The suburb might be one of the first locations if "drug injecting rooms" were introduced, she said.
The injecting-room approach was "soft", encouraged illicit drug use and drug trafficking and sent the "wrong message" to young people.
The issue was better tackled by more drug rehabilitation facilities, with Victoria well behind NSW's 800 available beds, Cr Serey said.
The motion was opposed by councillors Tim Jackson, Damien Rosario and Wayne Smith – who called for a council report on the issue prior to voting.
"My dissent isn't that I'm in favour of drug injecting rooms, but that we have proper information in front of us," Cr Jackson said.
He noted a State Parliament inquiry being held on the issue was due to report back in March 2018.
"I would be interested in what it says before I form my view.
"Ultimately, it's a decision for the State Government, not for council."
Cr Smith, though not supporting or opposing the rooms, said opportunities for clean syringes and counselling might be offered.
Councillors Rosalie Crestani and Milla Gilic, in rejecting the rooms, gave examples of close people who had died while on methadone treatment.
"It would be stupid to even dabble with an idea that it's OK to go in a room and use heroin and other drugs," Cr Gilic said.
Cr Gary Rowe, who as a State MP had investigated the issue on an international scale, said "safe" injecting rooms was a misnomer.
Even in these rooms, users could be killed immediately by a "hot shot", Cr Rowe said.
They attracted drug dealers in the neighbourhood and "don't give our children or anyone else's children a degree of safety whatsoever".
"From what I see here tonight, the consensus of this council is we don't want it in City of Casey."
Mayor Sam Aziz said the motion was based on politics, and didn't require more technical information from experts – who were in any case divided on the issue.
"I'm willing to give my right arm if 90 per cent of residents don't agree with this (motion)."
Meanwhile, council officers were instructed to report back to councillors on the issue by June.