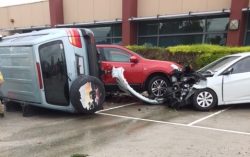 [ LATEST 1.45pm ] A young boy had died as a result of the crash. Read the latest here.
[ UPDATE: 1.05pm ]
Reports by Casey Neill and Victoria Stone-Meadows
A car travelling on Kangan Drive careered into the Casey Superclinic car park and struck a toddler before coming to rest on its side, witnesses to this afternoon's Berwick crash say.
Police have closed the road and about 30 patients in the clinic are in lockdown.
Ben Ayache said the driver also struck a tree and several cars.
He said doctors, other medical professionals and onlookers rushed from Casey Hospital, Casey Superclinic and the surrounding area to assist.
"There's everyone around the kid," he said.
"One of the guys ripped off the windscreen to give the guy some air.
"He was stuck in the vehicle on the side."
Another person at the scene said a silver vehicle was travelling from the Princes Highway end of Kangan Drive when it left the road and crashed into the car park.
A man, believed to be in his 50s, was taken to Dandenong Hospital in a stable condition and a woman, believed to be in her 60s, was taken to Casey Hospital with minor injuries.
[ UPDATE: 12.50pm ]
A child is being airlifted to the Royal Children's Hospital in a critical condition following a Berwick car crash.
An Ambulance Victoria spokeswoman said paramedics were called to the Kangan Drive collision shortly before noon today (Friday 21 April) and were also treating three adults at the scene.
They appear to be in a stable condition.
A CFA spokeswoman said crews arrived to find a car on its side and a person trapped.
She said SES and police were also on-scene.
We have just been sent this picture by a member of the public…
More follows…
[ 12.20pm ]
CFA crews are responding to reports of a person trapped following a serious multiple-vehicle road accident on Kangan Drive in Berwick.
The News is awaiting further information from Ambulance Victoria and the CFA and has a journalist en-route to the scene.
More follows…