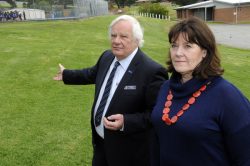 By Cam Lucadou-Wells
Gembrook MP Brad Battin has called on the State Government to reverse its state-budget snub of a $1 million plan for a mental health and wellbeing hub at Berwick College.
Mr Battin said the government was "making all the right noises" about mental health among young people in Casey-Cardinia but had not funded the school's vision.
The proposed Wellbeing Centre, which would be available for broader community use, would have rooms for a GP, counsellors, a sick bay and a room for educational sessions.
Talks on domestic violence and other factors for mental health could be delivered during and after school hours.
The idea comes after the Casey region had been rocked by a "cluster" of 12 young deaths by suicide in 2011/12, which led to a State Coroner's report on the phenomenon's "elevated frequency".
"Our community has suffered enough with the pain of young people taking their lives," Mr Battin said.
"We are reminded daily of the tragic events on social media, memorial sites and kids still talk about the pain they felt.
"You would struggle to find a person who has not been touched by suicide, and many of those who take their life are only at the beginning of life themselves."
Mr Battin said Berwick College principal Kerri Bolch and teachers showed leadership by coming up with a Wellbeing Centre in 2014 to help students at greatest risk.
"When we are talking about young people's lives we must note we only need $1 million. If it saves one life, it is worth it."
Berwick College school council president Roger Hall said he was disappointed the proposal – with "broad acceptance from both sides of politics, both State and Federal" – didn't win funding.
"The centre would be an extremely valuable asset for the school in dealing with the welfare problems we encounter among our 1600-plus students at our school."
Mr Hall said the college's five welfare staff and nurse worked in "acutely cramped" spaces to fulfil a "not unreasonable expectation" that the school cared for the "whole" student.
He said the cost wasn't excessive compared to the community benefits.
"I am a very firm believer in the concept that it is better to have 'a fence at the top of the cliff than an ambulance at the bottom'."
Principal Kerri Bolch said she was passionate about creating a centre to educate students and the community on the factors leading to mental health issues, and were keen to explore ways to fund it.
Ms Bolch said the school had an understanding the proposal was being considered in the state budget.
She said mental health issues were prevalent among young people.
"We have the support of many community groups and hope to work together to make a difference now and in the future."
Star News is awaiting a response from the State Government.