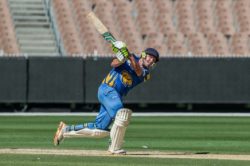 By Nick Creely
Only a week after losing Steven Spoljaric to Springvale South, Cranbourne have been dealt another bitter blow, with Matt Chasemore defecting to rivals Berwick on a two-year deal.
After telling Star News Group last month he was considering heading back to Victorian Premier Cricket with St Kilda, the left-handed Eagles' premiership player will now link up with the Bears in a major coup that is certain to shake up the competition.
Chasemore, 35, has been one of the great club cricketers produced in the past 15-years, and produced yet another stellar Turf 1 season, scoring 539 at 67.4, while also chiming in with 15 wickets at 24.1
He will be joined by Jordan Cleland, a highly talented wicket-keeper batsman, who also played for Cranbourne last season and is likely to thrive in his new environment.
The signing of Chasemore lifts the expectations out of Arch Brown Reserve, who now possess a list glittered with talent.
Perhaps their biggest flaw in the quest of more silverware was a middle-order bat who can play a long innings and occupy the crease, but now they've found one.
In a team featuring names such as gun skipper Jarrod Goodes, bowling dynamos Jarrod Armitage and James Wilcock, as well as rising bat Darren de Souza and a host of other strong players, the Bears are undoubtedly one of the early premiership favourites.
It is understood that Cranbourne and Chasemore mutally parted ways, with the Eagles looking to build for the future.
At this stage, Cranbourne are without a coach for next season, but are expected to make an announcement in the near future.