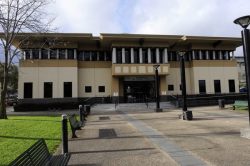 By Cam Lucadou-Wells
A Doveton mother has pleaded guilty to trafficking after a baby-bottle of GHB was seized from atop her bedroom wardrobe by police.
During the raid of the mother's home, police also found a hunting knife under her mattress, a syringe of GHB and a zip-lock bag of methamphetamine, Dandenong Magistrates' Court heard on 8 May.
Police also seized the accused's phone with text exchanges between the accused and buyers looking for ice and "drinks" of GHB.
On a different raid in June 2016, police seized items such as tawny port, a lap top and a black-leather couch stolen during a home burglary in Dandenong a month earlier.
The accused had told police she had bought the stolen goods from an unnamed associate.
A Corrections Victoria officer told the court that the woman had also failed to keep appointments as part of her 2016 community corrections order.
A defence lawyer said the accused had failed to attend due to the anxiety of meeting drug-using associates while she was keeping "clean".
The accused had endured a "volatile year" in 2016, but had since successfully completed a CREDIT bail program, maintained a treatment regime and passed clear urine-drug tests over the past year, the lawyer said.
"She has been clean since 2015, which is significant given her history of drug abuse issues."
Magistrate Jack Vandersteen praised the accused's efforts to remain drug free, as well as her personal struggles to regain custody of her youngest son.
"You've done remarkably well given your background and difficulties you face.
"You've made some incredibly positive steps."
He warned the woman to keep out of trouble, especially so her teenage son wasn't caught up in the drug world.
"You'll feel better that you're taking these steps."
The accused was put on an 18-month treatment-only community corrections order.
If she had pleaded not guilty, she would have received six months' jail, Mr Vandersteen said.