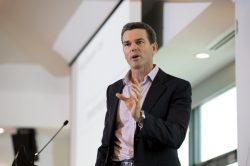 Great businesses are forged during tough times.
That's the opinion of Star News Group Business Excellence Seminar guest speaker and national business commentator Damian Morgan.
Mr Morgan will exchange ideas with some of Cardinia, Casey and Greater Dandenong business leaders during a series of free seminars he will be holding across the region in June.
He will host seminars in Dandenong on Tuesday 20 June, in Pakenham on Thursday 22 June, and in Narre Warren on Friday 23 June.
While he has a positive attitude to business success during economic slumps, Mr Morgan isn't afraid to be blunt when giving advice.
"The truth is there are some boom-time businesses that will only work in a boom," he said.
"Great businesses that are well planned and developed are sustainable – they can thrive in any conditions."
Mr Morgan is a former creative writer and business journalist with an MBA, and is also a regular media commentator.
He has a passion for helping small and medium-sized businesses grow.
"I am a small business owner myself," he said.
"My great passion is helping small businesses beat corporate – we are generally better."
One pitfall for many small business owners was a lack of self-promotion, Mr Morgan said.
"So many small businesses are very good at what they do, but they don't make the profit they should make because, in many cases, they don't promote themselves well," he said.
"It's one of the things corporate (businesses) do really well. Small businesses are typically better. We care more but we are often the best kept secrets in town."
All 50 minute sessions are free with various seminar times available.
Bookings are essential. Contact Robyn Butler on 5945 0682 or email robyn.butler@starnewsgroup.com.au to book a spot.