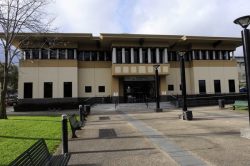 By Cam Lucadou-Wells
A magistrate has pondered how to protect a Narre Warren woman from a man who texted a barrage of sexually-derogative abuse and had apparently stalked her at her own home.
The 24-year-old man, of no fixed abode, had been blocked on Facebook and her phone by the mother of their two children.
She has since moved to an undisclosed address, Dandenong Magistrates' Court heard on 8 May.
On 3 March, the accused made 40 phone calls and sent 14 abusive texts calling her a "c***", "sl**" and "piece of s***".
The next day, he fired off further abuse, after a male friend visited her house.
Magistrate Jack Vandersteen rebuked the man's lawyer for "blaming" a picture of the partner "dressed provocatively" on Facebook.
"So it's about victim blaming?" Mr Vandersteen said.
"It's about what she's wearing?
"We're back down to that, are we?"
The man – being blocked on Facebook – claimed a friend showed him the Facebook post. It seemed to be a type of stalking, Mr Vandersteen said.
The man apparently knew more about what happened in the house than what was posted on Facebook, the judge said.
The man's lawyer said the accused was a "fantastic father" and a "hard worker".
Mr Vandersteen retorted: "Why is he behaving like a two-year-old?"
"His children (watching) in court are better behaved than he is."
At 2.15am on 23 April, the court heard, the accused began thumping on the home window's roller-shutters and calling out the partner's name, as well as repeatedly driving past the house.
He'd called 80 times and left 27 voice-mails before his interception and arrest by police at 4am.
At the time he was driving while suspended, and his Holden Commodore was unregistered.
He was caught two more times driving while suspended this year, showing a "sense of entitlement" and "non-compliance", Mr Vandersteen said.
The lawyer played down the man's brief period of using ice four years ago.
"If you're saying there's no drug or mental health issues, what is it behind this behaviour?" Mr Vandersteen said.
"Something is not quite right."
The man had a record of drug, assault and weapons charges in Queensland, as well as being subject to five family violence orders.
Mr Vandersteen, in noting the man's abusive words reflected the man's thoughts, pondered: "How does a court deal with that risk?"
The accused man addressed Mr Vandersteen from the dock. The partner had said she wanted to be a family while she was seeing other people, the man claimed.
He said he just wanted to know whether to continue the relationship or not.
Mr Vandersteen challenged the man on how he'd respond if the man's daughter was later spoken to in the same alleged way.
"I didn't make it comfortable for you," he told the accused.
"I can't risk you thinking I'm agreeing with you by being silent. That's the risk with family violence."
The accused was put on a 18-month community corrections order including judicial monitoring, drug assessment and mental health treatment.
He was banned from any contact with his ex-partner and children, except through a family lawyer.