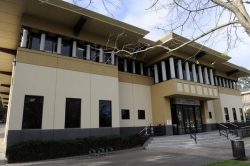 By Cam Lucadou-Wells
A man has smashed the inside of a car windscreen with his fist, then punched his pregnant girlfriend in the face and stomach after being enraged during a call with Narre Warren police, a court has heard.
Soon after his violence on 27 January, Jeremy Arvidson, 23, allegedly told the victim he hated her so much he felt like killing her.
Arvidson was sentenced at Dandenong Magistrates' Court on 15 May for assault and threats to kill his partner as well as for stabbing a Dandenong man in the stomach.
He pleaded guilty to the charges as well as stealing a car from a Pakenham mechanic's garage in February.
The car was found abandoned at Fountain Gate shopping centre on 21 February; Arvidson's DNA was swabbed from an empty Red Bull can on the car's floor.
Arvidson, who had been recently living in Doveton, Dandenong and Melbourne's west, was also charged with handling a stolen go-kart, a stolen motorbike and a stolen mechanic's electronic diagnostic tool in Hallam while on bail in October.
At the time of the first attack, he had been sitting with his girlfriend in a car at VicRoads' office, Dandenong.
Police had just hung up on Arvidson after he swore and got angry when told he couldn't register his girlfriend's suspectedly-stolen vehicle.
In a police interview, he said he'd kicked the car's windscreen out of frustration and told the victim to "f*** off".
He denied ever hitting her but claimed her black-eye occurred when he pushed her over "hard" at home during an argument on 31 January.
On 8 February, Arvidson accused a man of harbouring his former girlfriend in the man's Dandenong unit.
During an argument outside the unit, he stabbed the man in the stomach with a three-inch pocket-knife.
As Arvidson ran away, he yelled: "If you call the cops I'll kill your family and everyone you know."
He later denied to police that he stabbed the victim, who suffered a three-centimetre gash to his abdomen.
"If I would have stabbed him I would have done a better job," Arvidson allegedly said.
"I wouldn't have stabbed him, I would have shot him."
Arvidson, who appeared in court via a custody video link, accepted magistrate Barry Schultz's sentence indication of 18 months' jail with 12 months non-parole.
At the accused's request, Mr Schultz didn't deduct the pre-sentence detention term.
It is being "kept" for an upcoming County Court prosecution against Arvidson.