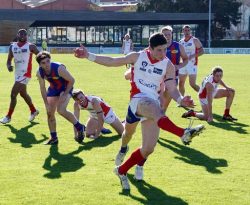 By Nick Creely
Make no mistake about it – Perry Lewis-Smith will never give up on his AFL dream.
The 18-year-old athletic beast is used to rejection, but rather than let that rejection become despair, has continually used it as a source of inspired motivation.
After a strong 2016 TAC Cup season with the Sandringham Dragons and the best beep test results out of all the TAC Cup players (15.7), Perry narrowly missed out on being drafted.
'The Machine' – as he is nicknamed for obvious reasons – such as winning more junior best-and-fairests with his club Parkmore/Springvale Districts than you count on your fingers – joined the Casey Demons this season in a bid to land in the AFL in 2018 through a strong state league season in the VFL.
So impressive he was in the Development League as a niggling small defender with the capacity to rack up the footy, that coach Justin Plapp decided to bring the youngest player on the list into the seniors in Round 6 against the then undefeated Port Melbourne.
He said he will never forget the experience of his VFL debut, and hopes it will hold him in good stead as he attempts to catch the recruiters' attention.
"The experience was great – they (Port Melbourne) hadn't lost yet so it was always going to be a really good game – I was thrown into the deep end a little bit, and I was a bit nervous, but as the game went on I got into it," Perry said.
"It was a lot quicker and the bodies are obviously a bit bigger, but getting involved amongst the AFL players was a great experience for me going forward."
He went on to play a further three matches, including a game against Richmond where he tagged mercurial forward Shai Bolton, holding him goalless in the process.
But its in the Development League that Perry continues to will himself and keep his name popping up in conversations, with his endurance ensuring he has finished the season with a flurry of strong games.
There is plenty of inspiration at the Demons to look to for Perry, with Casey leader Jimmy Munro sharing a similar journey.
After rejections from the Dandenong Stingrays, Eastern Ranges and Gippsland Power, Munro found a path with the Sandringham Dragons – similar to Perry – before becoming one of the stars of the competition with Casey this season.
"Jimmy (Munro) is really good to watch, just the way he goes about it – he's a great player, maybe not the most skilled player you'll see but bloody tough – I get along really well with him," he said.
"Some of the leaders – like Jack Hutchins and Jordan Moncrieff for example have also been great and helpful at times."
Despite possessing an elite set of playing skills, Perry prides himself on the most important aspects of all and something that has shaped him in his journey so far.
He hopes it will make him stand out among the rest.
"I'm pretty mentally strong, and feel like I can take anything that comes my way – as the years go on, recruiters are starting to look at the VFL a lot more, and that works in my favour," he said.
"I was a little bit unlucky, and things haven't fallen my way really, but I'll keep going – I haven't doubted myself, my goal is to play AFL, and people knocking me back doesn't stop me because you hear so many stories about blokes who get knocked back and then they make it.
"I've been told that I should be drafted, but haven't really had the chance to talk to anyone yet – it's my dream to just get an opportunity, and I'd do anything to get that – in the end, I'm confident and hopefully it comes one day.
"If it doesn't happen this year (AFL draft), I'll come back and just aim to play regular VFL senior footy considering there won't be Development League next year."
Heading into his first grand final with the Casey Demons' Development League in a couple of weeks time, Perry is trying to keep a lid on the excitement and prepare the exact same way he always does.
"I don't get too nervous in games, and I try and treat it like normal games – I've played plenty of finals before so I'm pretty confident in my ability to back myself and play well," he said.
"It's a great opportunity to get the last Development League premiership and make a bit of history with the club."