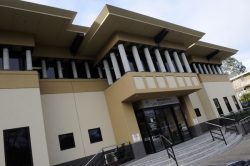 By Cam Lucadou-Wells
An accused drug trafficker has been bailed after being allegedly found with a stack of cash and drugs, as well as a 'tick book' of $37,000 worth of drug transactions, at a Narre Warren service station.
Chris Stavrinidis had been allegedly fuelling up a motorbike without a rear number plate at the Vesper Drive outlet shortly before 3am on 21 August, Dandenong Magistrates' Court was told.
Stavrinidis tried to flee as police arrived, nominal informant Acting Sergeant Garrett Sandeman told the court.
Police seized $5825 cash, 17 grams of a "rock, white substance" believed to be meth and the tick book from Stavrinidis.
The bail applicant had prior drug offences, Act Sgt Sandeman said.
His criminal history including disqualified driving, cultivating a narcotic plant, illegally possessing a handgun and ammo, and importing tier-two prohibited steroids, the court heard.
Stavrinidis's lawyer said the illegal handgun was a BB gun and the steroids were to assist the applicant's recovery from a workplace injury.
The applicant had been approved for a drug-rehabilitation CISP program, if granted bail, and no priors for failing to answer bail, the lawyer told the court.
The applicant had previously complied with a two-year suspended sentence and a community corrections order.
Bail conditions such as a night curfew, fixed residence, drug screening and CISP would reduce the risk of re-offending, the lawyer said.
"If he were to be bailed and engaged in treatment to a high level, imprisonment is not the only (sentencing) disposition open to the court."
Stavrinidis's stay in remand had been a "sobering experience" marked by an incident in which a young person died in prison, the lawyer said.
Magistrate Jack Vandersteen said Stavrinidis was leading a life hidden from the gaze of his family. The suspected meth found on the applicant could be worth up to $8000, Mr Vandersteen noted.
He granted bail because of Stavrinidis's youth, his stable residence, a written offer of employment, family support and drug treatment program.
The prosecution case "at its highest" didn't necessarily lead to a jail term but if bail was breached, Stavrinidis would be back in custody, Mr Vandersteen said.
Stavrinidis was bailed subject to the CISP program, drug tests twice a week, daily reporting to police and having a fixed address.
He is set to next appear at Dandenong Magistrates' Court on 11 October.