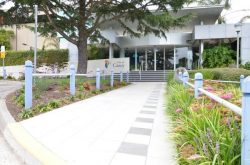 By Cam Lucadou-Wells
Casey Council is yet to announce future plans for its soon to be demolished civic centre and library in Narre Warren.
The council and library are set to relocate to the $125 million Bunjil Place in October, with the vacated buildings demolished next year.
Mayor Sam Aziz said the circa-1970s buildings were in "poor condition".
"Both the civic centre and library buildings have outlived their usefulness," he said.
"It's simply not practical or economically viable to invest a significant amount of ratepayers' money to bring them up to a standard suitable for any tenant."
Cr Aziz said no decision had been made on the future of the demolition site. In the short term, part of the area will be a 75-space car park and a linking park between Bunjil Place and the Westfield shopping centre.
"Our preference for the site (is) to remain in council hands.
"To recognise the potential of the existing council office and library site, council is working towards a plan to build off the success of Bunjil Place and provide maximum value to council and the community."
Cr Aziz said the council was planning for the Narre Warren and Fountain Gate precinct to be the "premier CBD of the South-East".
"With a catchment of 355,000 people, the area is a regional shopping, entertainment, employment and community destination with Bunjil Place and Casey ARC at its heart.
"The community will have opportunities to have its say about the site in the future through the planning process."
Demolition works will start in early 2018.