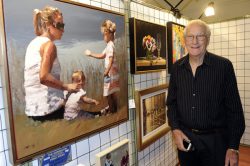 By Cam Lucadou-Wells
A Berwick art group has declared the show must go on, despite been 'robbed' of funding from Casey Council.
Provenance Artists will be staging 'The Greatest Art Show' on 22-24 September thanks to the support from another local art group, the Berwick Artists Society.
President Calvin Bell said the "shocked and very disappointed" Provenance Artists committee were set to cancel the show after Casey Council withdrew its approved $3000 grant at the 11th hour.
The council instead gave the grant to Berwick Business Group for a community Christmas party.
"It is unfortunate that the City gives outstanding support to sporting and performing arts and now to a business group for a Christmas party."
Mr Bell said it was wrong for Casey to overlook not-for-profit societies in favour of a business group, which already received membership fees from traders.
"(We) have no income, and rely solely on volunteers and the goodwill of patrons, artists and businesses."
Recently, Cr Timothy Jackson told Star News the decision was unfortunate but necessary.
"The Berwick Business Group hosted a wonderful Christmas event for the community and local business which I attended. This was attended by more than 2500 people," he said.
"While it would be great to be able to fund every event and every community group, it just isn't feasible to do so.
"I hope that should further money become available, we may be able to fund the art group again."
The Provenance Artists' revived show will feature fine art from Victorian artists as well as top Sydney painter Kasey Sealy and scratchboard artist Carol Gorenko.
It is at Nossal High School auditorium, 100 Clyde Road, Berwick on 22-24 September, 10am-5pm.