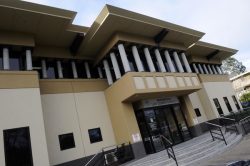 By Cam Lucadou-Wells
A man has pretended to have been kidnapped and tortured in an elaborate plot against his business partner, Dandenong Magistrates' Court has heard.
Christopher McKai, of Endeavour Hills, had earlier struck a deal with the 52-year-old male victim to provide eight motorcycles at a highly discounted price.
However, after being paid $10,500 for the goods, McKai failed to provide them. He told the victim they went missing, on the same day that the victim asked for the paperwork.
The victim then received texts from McKai's mobile phone, from an apparent third party, that McKai had been kidnapped over a missing firearm, the court was told on 9 October.
"He is going to die" and "you're the next one", the stream of messages read.
The victim rang McKai's phone. An unknown male told the victim that he'd stabbed McKai, who would be killed if the firearm wasn't returned.
The victim, who had no knowledge of the weapon, reported the matter to police – which led to a costly and unnecessary Armed Crime Squad major investigation.
McKai was located "safe and well" in his home by police, arrested and interviewed at Cranbourne police station.
McKai also faced charges over thefts of motor vehicles as well as failing to stop and exchange details after crashing into the back of a car in Endeavour Hills on 27 March, and again in Victoria Street, Melbourne, on 24 June.
He had never held a driver's licence, the court heard.
McKai's lawyer said the victim and the accused were both involved in a "dodgy deal" with a lot of "back story and factors" not presented to the court.
McKai had previously committed 145 prior thefts and obtaining property by deception offences since 2008, and served two jail terms, the court heard.
He'd been victimised and threatened while in jail, the lawyer said.
"There's not much I can say to mitigate his role given his priors."
Magistrate Jack Vandersteen described McKai as "quite an intelligent individual – potentially" whose crimes with varied levels of sophistication were a "real concern".
"You have a significant prior criminal history.
"I'd have to be guarded as to his prospects of rehabilitation."
He noted McKai's diagnosed depression, but also his lack of engagement with counselling and treatment.
McKai was jailed for 21 months, with a non-parole period of 14 months.
He was also fined $1500 and disqualified from driving for two years.
He was ordered to pay restitution costs of $4958.40 to Victoria Police, and to pay $10,500 compensation to the victim.