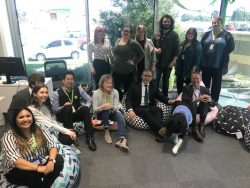 Holt MP Anthony Byrne joined a celebration of headspace services in Narre Warren recently.
The event marked headspace Day – a national day that aims to get people caring for their mental health issues early before they got more serious.
Narre Warren's headspace centre is one of the most popular services for youth mental health support.
It has assisted more than 1200 young people in Casey in 2017 – nearly twice the national average for headspace centres.
One of its drawcards is Romeo the therapy dog, who was a calming influence on the centre's visitors.
"It was great to meet the staff and to thank them for making a real difference to the lives of Casey's youth," Mr Byrne said.
"Casey's youth should be reminded that we do have a wonderful local mental health headspace service that is easily accessible … if they ever need any mental health support."
He pledged his support for continued funding to ensure it remained a "world-class local mental health facility for the long term".
A quarter of young Australians experience mental health issues each year.
Headspace is building an advice campaign based on young people's feedback, which aims to help other young people.