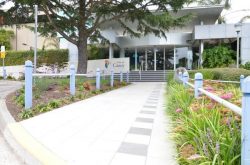 By Cam Lucadou-Wells
A locally based solar farm could deliver affordable energy to residents and revenue to Casey Council, says councillor Amanda Stapledon.
At a council meeting on 17 October, Cr Stapledon tabled for Casey to investigate a "win-win" public-private partnership with US-based NOVOsol Power Company.
She said unutilised land such as landfill or powerline reserves might be used for solar panel installation.
"I believe that we are not in any capacity, at this point in time, able to move to renewables.
"But I think there are opportunities … (to) give our residents greater opportunity to purchase affordable power to either provide or top up their current usage.
"This is especially important given the power crisis that we are already experiencing and that Adelaide has been crippled with."
Cr Stapledon said advances in renewable power were in their infancy, but pointed to promising examples like Australia's first local-government solar farm on the Sunshine Coast and mass-battery storage of solar polar in South Australia.
NOVOsol had worked in several countries with different levels of government and partnering major banks, insurance, energy and engineering firms, she said.
"The company is predominantly working with Indigenous communities who receive benefits from providing the land.
"Then the company and government body provide energy back to the grid, and in many instances generate a revenue stream for themselves."
Casey officers and councillors are expected to meet with Josue Altomonte of NOVOsol as part of the investigation.
The officers are expected to table a report at the council by April 2018.