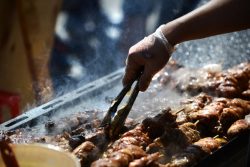 By Cam Lucadou-Wells
Asian-fusion street foods will be served under lights at Bunjil Place's plaza for an inaugural night-market on 18 November.
The inaugural Hawker Street Food Festival will be one of the first "city-style experiences in our own backyard" hosted at Bunjil, Casey mayor Sam Aziz said.
"No longer do we have to travel into Melbourne to enjoy these experiences.
"I have no doubt that the Hawker Street Festival will be the first of many wonderful events to come to the Bunjil Place Plaza."
Along with foods, there will be craft beer, wine and speciality Asian-fusion cocktails.
There will also be live music, a DJ and interactive family activities such as outdoor games and dumpling-making demos.
The food vendors include Burn City Smokers, Korean Fried Chicken, White Guy Cooks Thai, Ghost Kitchen, Hello Saigon, Wrap It Roll It, Dots Stop and Snow Ghost.
The festival is on Saturday 18 November, between 4pm and 9pm, at Bunjil Place Plaza, Patrick North East Drive, Narre Warren.