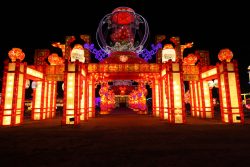 By Cam Lucadou-Wells
A spectacular light and lantern festival could be launched by Casey Council at Bunjil Place as early as 2018.
Outgoing mayor Sam Aziz successfully moved on 9 November for council officers to investigate how to secure a festival within 12 months – similar to the lucrative event staged in Phoenix, Arizona.
The opportunity arose through a council delegation to China – a mission led by Cr Aziz and Cr Wayne Smith.
"China really does hold the key to Australia's prosperity for the next 100 years," Cr Aziz said.
"Some would mock (the recent Casey delegation to China) as a junket but it is an opportunity that will deliver in spades."
Casey economic development director David Wilkinson said the council was "blown away" after talks with potential partner Sichuan Lantern Company on the festival.
The event was a "realistic opportunity" to launch in either 2018 or 2019, Mr Wilkinson said.
The former civic centre – set to be demolished into a car park – was considered the best venue due to its location, size and hard surface.
April was judged as the most favourable month for stable weather and sunset times.
Casey was also in talks with two events companies Bastion Live and Logistics Events, which both affirmed the event would be a tourist drawcard.
In an update on the China strategy, Cr Aziz was expected to shortly sign a memorandum of understanding with the Chinese city of Dujiangyan.
The council has also been in partnership talks with Sichuan Airlines in a bid to boost tourism to Casey.
Bunjil Place, Royal Botanic Gardens Cranbourne, Wilson Botanic Park and Fountain Gate shopping centre were considered marketable attractions, Mr Wilkinson said.
It was hoped an agreement would be forged in 2018, he said.
Other initiatives included a possible soccer exchange program that would lead Casey under-16s girls and boys teams to tour Sichuan province in April.
Casey was also set to become the second Victorian council to launch a WeChat social media account – to open more tourism and business opportunities.
It was also revealed that the Mayor of Dujiangyan expressed "great interest" in visiting Casey.
He was however unable to attend the opening of Bunjil Place due to a clash with the 19th National Congress of the Communist Party of China.