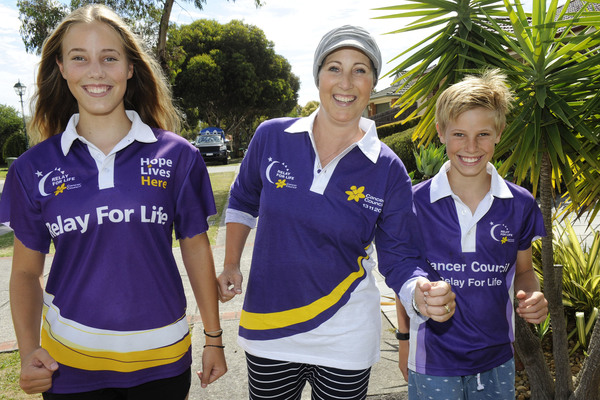 By Cam Lucadou-Wells
Simply put, Penny Haringsma is an inspiration.
She is a cancer survivor of epic optimism and a fixture at Casey Relay for Life since 2010.
Eight years on, she's undeterred by the twice-diagnosis of secondary cancer. It was found in her bones in 2016 and in her liver last September.
Her relay journey began soon after the Berwick nurse was diagnosed with breast cancer at the age of 37.
At the time, her children Zoe and Riley were 5 and 3 respectively.
They remain her driving force, she said.
The first relay was overwhelming – a 24-hour team relay, celebration and memorial of cancer survivors and lost loved-ones.
"I was going through chaemotherapy. It was just so emotional – I had never been so touched by cancer.
"It brings people together."
Since then her team A Penny For Your Thoughts has grown to a legion of up to 50 family and friends.
Ms Haringsma hopes to raise at least $5000 – which would her to nominate the cancer research beneficiary. Last year she opted for blood and secondary cancers.
"We're all trying to find a cure because we all need it.
"Even if it's not for ourselves then it's for someone we know and someone we love."
As for her own plight, Ms Haringsma says she was facing her own mortality a few months ago.
Recently she has responded well to chaemotherapy.
Her health battles put things into perspective.
"I've always cherished my family and my friends. When you're faced with your mortality you cherish them a bit more."
She's looking forward to completing a few laps during the Casey relay event.
"It's not something I'm doing on my own. My family and friends are hugely supportive.
"I tell them don't do Relay For Life just for me. Do it for others they love."
Casey Relay For Life is at Akoonah Park, Berwick on Friday, 2 March from 5.45pm.
For details and to register, go to the Facebook page of Casey Relay For Life.
To support Ms Haringsma's relay team, search for A Penny For Your Thoughts.