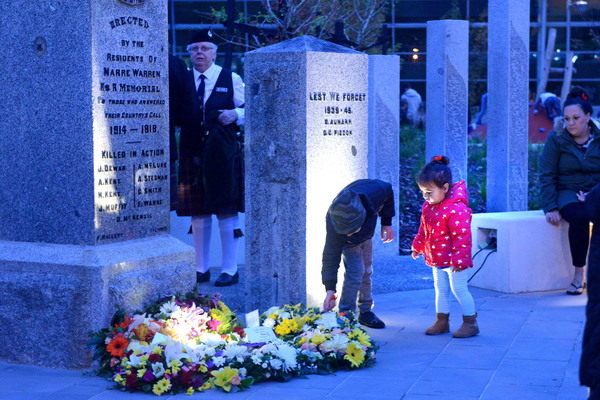 By Brendan Rees
Thousands gathered for the inaugural Anzac Day dawn service at Bunjil Place to pay respect to Australian and New Zealand Diggers who fought and died for their countries.
Clear conditions and the sound of bagpipes played by Berwick Pipers member Marie Everett greeted more than 2,000 people.
Just before daybreak, political dignitaries, members of the Berwick RSL sub-branch, emergency service members and the public were invited to lay wreaths at the Cenotaph as a mark of respect to the men and women who served their country.
Berwick RSL sub-branch secretary Chris McKenna led the morning service, with Reverend Elywn Sparks leading the crowd in prayer.
This years' service marked a significant milestone in Australia's military history, Mr Kenna said, marking a century since the second Battle of Dernacourt, the Battle for Villers-Bretonneux, the Battle at Hamel and Armistice Day, now referred to as Remembrance Day.
Berwick RSL sub-branch president Wayne A'Vard gave the Anzac address, speaking of the values and the sacrifices made by all those who have gone to war.
"Let us this morning reflect on the deeds of those young men who understood and accepted their responsibilities who believed in mateship, integrity, loyalty, family, honour and respect," he said.
Mr A'Vard said he was "really chuffed" by the turnout of people at the service.
"It's very, very special. It's a commemoration, not a celebration of the sacrifices been done, not just in the past but of our men and women whereever they may be (serving for Australia)."
Mr A'Vard said each light on the base of the Bunjil Place cenotaph was significant as they represented every ship that sailed to Gallipoli in 1915.
Federal Member for Holt Anthony Byrne said he was also impressed by the huge turn out – both young and old.
"This day has become increasingly significant, and for me it is the most national day to honour those that made the sacrifice for our country," he said.
The service continued with The Last Post, which was played by Greg Marks and his granddaughter Scarlett.
This was followed by a minute's silence, the recitation of the Ode of Remembrance and the national anthem being played.
The service was followed by breakfast at Bunjil Place, where veterans and community members shared stories.
Forty-six volunteers from the Rotary Club of Narre Warren and Families, Rotary Club of Berwick, Casey Cardinia Rotaract Club, SES Narre Warren and the Inner Wheel Club of Narre Warren helped with the morning service.
Convenor for the Rotary Club of Narre Warren Tim Fisher said "The City of Casey provides fantastic help through the setting up of the venue and assistance during the event."
War veteran Ray Heathcote said it was important the spirit of the Anzac lived on to honour the service and sacrifice of Australian men and women.