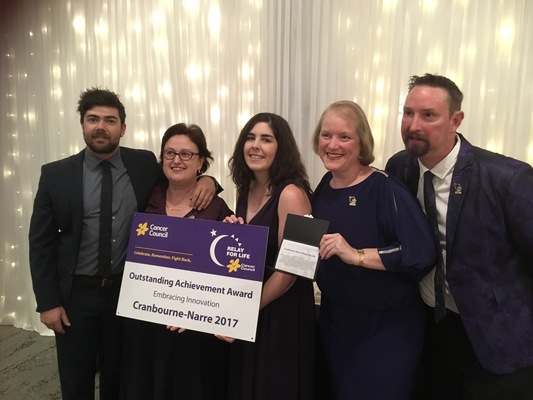 By Cam Lucadou-Wells
Cranbourne-Narre Relay For Life organisers were clucking with delight after winning an innovation award for their unique 2017 cancer-research fundraiser.
The relay's King of the Wing competition challenged diners to scoff as many wings as they could in 10 minutes.
Memorably, some of the diners ruined some good suits as they enthusiastically splashed marinade during the frenzy.
"The crowd got involved, cheering them on," says committee member Brooke Hunter.
"It brought that community spirit. We want everyone to feel they're on the same team."
Its sense of fun also won over valuable sponsors, such as Ray White Cranbourne.
"It gave the relay a fresh take."
Being a pro-health event, it had to be stressed that sort of food should normally be eaten in moderation.
"It was why we used the slogan – it's about the bucks not the clucks.
"We gave it a healthy twist by baking the chicken wings.
On 2 June, the spirited contest was recognised with an Embracing Innovation award at the Cancer Council Victoria Relay annual awards.
In its six years, Cranbourne-Narre Relay for Life has raised more than $400,000 for cancer services and research.
It features a 24-hour relay with teams of cancer survivors and supporters raising thousands in donations.
This year's event aims to raise $70,000, which will include the return of the King of the Wing.
It is at Casey Fields track-and-field on 17-18 November. Details: fundraising.cancer.org.au/cranbourne-narre