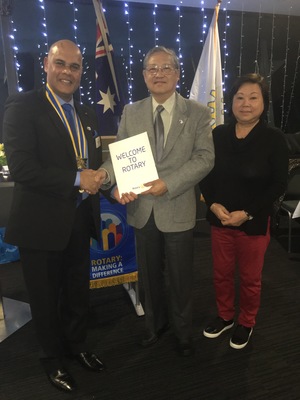 By Brendan Rees
Rotary Club of Berwick's newest inductee Adwin Town says he can't wait to get started in helping the community.
"I wanted to give back the community," said the Clyde North resident.
"A lot of people say 'You're over 70 why don't you take a rest' and I say 'No.'"
Born in Shanghai, Mr Town was educated in Hong Kong before migrating to Australia in 1985. He works as a senior migration consultant in pro bono services for the Australia for Christ Church in Rowville.
"In Casey, there are a lot of new migrants coming here. A lot of them they need some advice and service, so I'm thinking I try to give them help," he said.
The club welcomed Mr Town at its changeover dinner 57th changeover dinner at Holm Park Reserve Pavilion on Wednesday 4 July in front of more than 87 guests.
Past president Ricardo Balancy was honoured to induct Mr town: "Memberships in Rotary is an honour and priviledge and every priviledge has its corresponding obligations," he said.
"They endeavour to practice the principals of goodwill and service."
Mr Town also hopes to seek grants from state and federal levels to assist in education and migration for families living in the City of Casey so they can "stand on their own feet.
"Berwick Rotary has been doing a great job of the neighbourhood and I hope with my knowledge and area I'm accustomed to, that I'll I try to help all people around the community," he said.
"We could do something together for Casey."