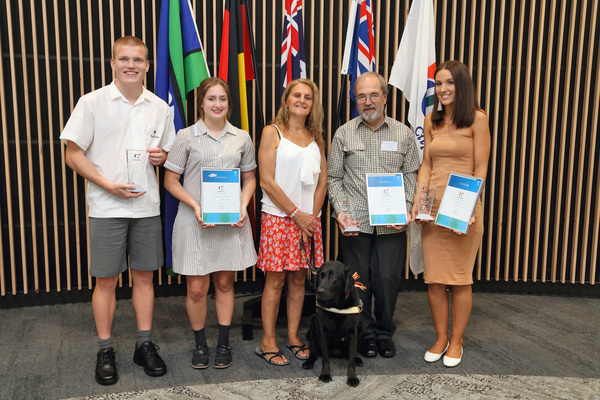 Do you know an outstanding person who goes above and beyond in their contribution to the Casey community? Then nominate them now for the 2019 Casey Australia Day Awards.
Council has been proudly recognising and celebrating the contribution of remarkable Casey citizens and community groups through this awards program since 1981.
With nominations now open for the 2019 awards, City of Casey Mayor Cr Geoff Ablett encouraged residents to think about the individuals and groups that they believe are worthy of recognition for all that they do.
"This is your opportunity to shine a light on someone you believe deserves recognition; someone who inspires and astounds you through their achievements, dedication and contribution to creating a better Casey, whether that be in a volunteer or professional capacity," he said.
"Casey is lucky to have many residents and groups who go above and beyond in their contribution to our community, and the Casey Australia Day Awards provide a platform to celebrate them and show our appreciation.
"We need your help to shine the spotlight on the amazing people in our community who help make Casey such a wonderful place to live by submitting a nomination."
Nominations are open until 4pm on Wednesday 10 October 2018 and can be made in the following four categories:
• Casey Citizen of the Year: recognises outstanding individuals who in their profession or as a volunteer, lead by example, inspire others and demonstrate excellence and commitment in their field.
• Casey Young Citizen of the Year: recognises exceptional young people under the age of 25 years.
• Casey Senior Citizen of the Year: recognises those aged over 60 years who continue to achieve and contribute.
• Casey Community Group of the Year: recognises a Casey community group that provides support, events, fundraising or service for the benefit of the Casey community and its residents.
All nominee finalists will be invited to the 2019 Casey Australia Day Awards ceremony at Bunjil Place, a prestigious event celebrated on Australia Day where Casey's Citizens of the Year will be announced.
For further details and to submit a nomination visit www.casey.vic.gov.au/cada or call the City of Casey on 9705 5200.