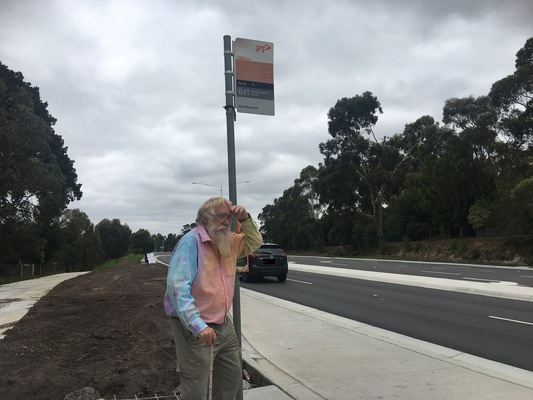 By Jessica Anstice
Seven times John Alcock stood at the bus-stop in Narre Warren North waving at the driver to pick him up.
Each time, the bus drove straight past him without slowing down.
Mr Alcock, 67, uses the local bus line almost every day on bus route 841.
"I need to get from Narre Warren North to Fountain Gate Shopping Centre daily at the moment as I am Santa for two large stores try to bring a light and joy in the lives of children and their parents," Mr Alcock said.
Over the last six weeks, he has been left at the stop on Belgrave-Hallam Road seven times.
"They cannot fail to see as I am standing on top of a hill in clear view from a huge distance," he said.
"To make it worse I am on a walking stick and have already walked for half an hour to get there.
"There is no seat or shelter. The problem seems to be that the intersection at Narre Warren North Road and Belgrave-Hallam Road has recently been reconstructed with lights etc including a new bus stop a while ago and some divers have not accepted the repositioning of the bus stop."
Mr Alcock said the problem is further compound by management telling drivers they do not start their shifts until the next stop nearly which is an hour further for him to walk to.
"I have been told by the drivers that some with not pick you up on the way even though they drive right past you," he said.
"I know from working with the public for many years the one needs to use a great deal of common sense and even more compassion.
"On several occasions, I have been left standing for over an hour in rain, cold and in extreme heat."
Mr Alcock recognised that "99 percent of the bus drivers are excellent, caring and compassionate".
"When the bus doesn't stop, it makes it very difficult for me. I am forced to wait at the stop for another 45 minutes for the next bus," he said.
"I need to be on time because I have parents and children relying on me as Santa."
Ventura Bus Line spokesperson said, "After speaking to our drivers we have realised that maybe the opening of the new bus-stop hasn't been advertised as it should have been and we are currently going down the path of telling every driver and putting up notices in the depots."