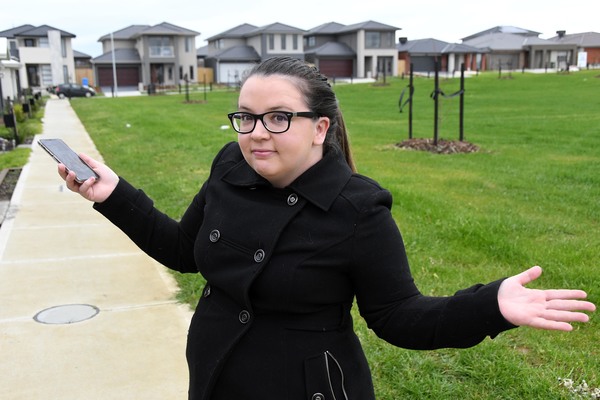 By Brendan Rees
Residents at a new housing estate in Clyde North estate say they are fed up with mobile phone reception cutting out repeatedly.
High Grove Estate residents say they struggle to call emergency services, can't access the internet, and most of the time can't use their phone indoors.
They are now rallying their local politician to fix the problem.
Caitlin Williams contacted Star News after recently attempting to call triple-zero three times before the call-taker could make any sense of her.
After about 15 minutes on the phone, she finally gave an address after hearing her neighbours argue violently.
But being a new estate Ms Williams said the police couldn't find where to go and were unable to call her.
"They ended up door knocking however many houses until they found me to figure where they were supposed to go," she said.
"Thankfully nothing bad happened but if something bad had happened to try and get police or an ambulance there is just a nightmare."
Ms Williams spoke of another frustrating experience when she drove to get mobile reception after her internet service had dropped out.
"Because it's a new estate there's often building debris everyday so I ran over a nail and got a flat tyre … couldn't call roadside assist because I had no phone reception."
Member for Bass Jordan Crugnale said her office had been contacted consistently on the issue from residents over the past six months.
"Our role is to advocate on their behalf to the Federal Government as it falls under their remit," she said.
"Recently the Federal Government confirmed that a new tower will be built in Clyde North which will improve mobile coverage."
Ms Crugnale added: "Access to mobile phone coverage is a necessary part of life which is why we're pushing so hard for communities here in Bass to have the connections they deserve."
Another resident, Liz Crawford said she was upset when Mildura hospital called her at home to say her mother was dying but hung up due to the weak phone signal.
"You've literally got to walk out on the street to actually get it to work," she said.
"It's a real problem."
A National Broadband Network spokesperson said people should contact their retail service provider if they experienced any internet issues.
"If they cannot solve the problem they will contact us and we will investigate for them to get to the source of the problem," the spokesperson said.