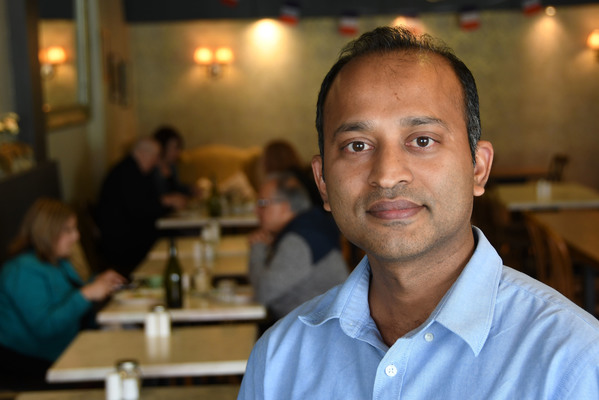 By Brendan Rees
As the outbreak of coronavirus spreads, a cafe owner in Berwick says he and other neighbouring businesses are feeling the impact.
Mush Rahaman, the owner of La Baguette cafe in Berwick Village, said he was losing money fast and has had to cut back staff hours.
Compared to this time last year, his sales had dropped 20 to 30 per cent.
"Right now we're losing money," Mr Rahaman said. "Everyone is trying to do their best on their own."
"We do not know how long we will survive," he said, adding buisnesses had been hanging 'we are closed signs' on their doors "everyday".
Mr Rahaman, a father of two, who has been running his popular cafe for the past two-and-half years, said despite the outbreak pushing customers away he was trying to remain positive.
In an effort to boost trade, Mr Rahaman has made an impassioned plea on the La Baguette cafe Facebook page urging people to support their local business, saying: "It is a time for togetherness, love and support".
"It is a crucial time for all of us. We are all scared of the recent pandemic of coronavirus," he wrote in the Facebook post.
"Soon the virus will be a history and we will all go back to our normal life, but you may not find your favourite places.
"Every business within our local community is very dedicated and doing their very best to satisfy our customer experience," the post said.
"Their families will be struggling," he said.
"I haven't had a day off for the last few weeks, but that's the way it is."
He said people choosing to stay home "is not really helping anyone of us".
On 12 March, the Federal Government announced a $17 billion stimulus package, providing vital support to keep businesses afloat in the wake of the damaging effects of coronavirus.
Tax-free payments for small to medium sized businesses will help ease the cash flow hardship many businesses are facing and help them to pay bills, pay staff and stay afloat.
Businesses with a turnover of less than $50 million will be eligible for a tax-free payment up to $25,000 to help strengthen cash flows.
Casual workers unable to attend work due to coronavirus will be eligible to apply for the Government's sickness payment. In addition, a $750 stimulus payment will be available to families receiving family tax benefits, people on Newstart and pensioners.