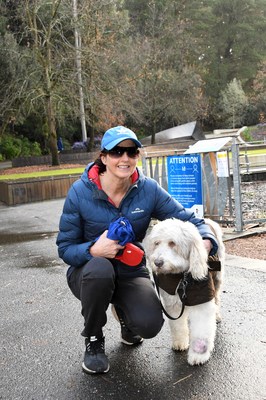 The cold may have set in but that hasn't deterred nature lovers from venturing to Wilson Botanic Park which reopened on Thursday 21 May following the easing of restrictions.The gardens were sorely missed during the Covid-19 closures, but the downtime was put to good use with work continuing behind the scenes to make sure that the park's future is looking very rosy indeed.
In more exciting news for the park, work is nearing completion for a café located on the grounds.
The café started life as a humble shipping container but has been transformed with external spotted gum cladding and deck, two serving windows, and a stainless-steel fit-out inside.
Wilson Botanic Park coordinator, Cathy Rees, said the café has been the missing piece visitors have been asking for.
"The café will provide visitors with a social hub, a place to purchase food and beverages, meet friends and become a destination of choice for residents and the broader community," she said.
"It will also provide added amenity to the park and encourage visitors to stay longer, without having to go elsewhere for a bite to eat or enjoy refreshments. We look forward to opening the café soon!"
Casey Council Wilson Botanic Park Berwick Master Plan has also thanked those who contributed their thoughts, ideas and aspirations to a recent Wilson Botanic Park Berwick masterplan community survey.
The feedback is now undergoing evaluation and review and will be used to prepare a draft masterplan for Wilson Botanic Park.
Once the draft masterplan has been presented, we will share it with the community, and residents will have the opportunity to provide any final thoughts.
In the meantime, visitors at the park are asked to follow social distancing guidelines to curb the spread of coronavirus including:
• Remain in small groups (no more than 10 people)
• Bring hand sanitiser and wipes
• Maintain 1.5m distance between yourself and other people
• Playgrounds are open
• Drinking fountains, barbeques and the visitor centre remain closed to the public