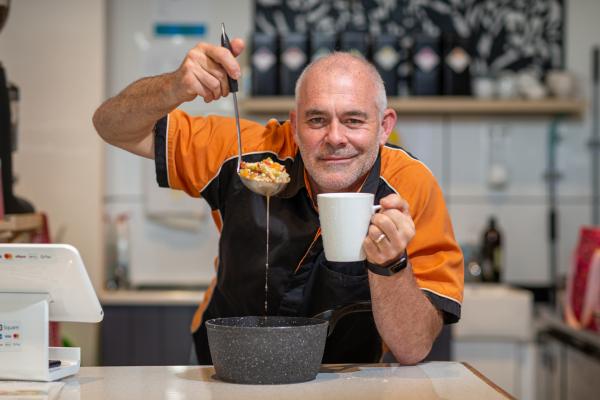 By Brendan Rees
For Paul Furlong, deciding to cook free soup for the needy was an easy one.
"From what I understand there's about 30 people living in their cars or sleeping on the streets in the Narre Warren itself," the owner of Driftwood Café in Narre Warren said.
Mr Furlong said many people had also been hit hard by the coronavirus pandemic and he and his wife were happy to do their part by offering free takeaway soup and bread every night to the community from Wednesday to Saturday at 6pm to 7pm.
On the menu will be three mouth-watering varieties of soup including pumpkin; cauliflower, cheese and broccoli; and chicken and vegetable.
"It'll be really good soup; I'm cooking the whole thing. I wouldn't call myself a chef or anything but I love cooking," Mr Furlong said, whose Victor Crescent café has been restricted to takeaway since the first round of lockdown.
"I've been stuck home now for quite a few months so I thought I need to put my energy into helping.
"There's a lot of people doing it hard for sure. At least we could something and you can't beat a good soup.
"We've just somehow got to get the word out there. It will build of course I'm sure."
Mr Furlong, who is also a pastor at The Revival church in Narre Warren, said he would also be open to offering counselling to people doing it tough.
"A big message is that there is hope. If there is hope, there is a future."