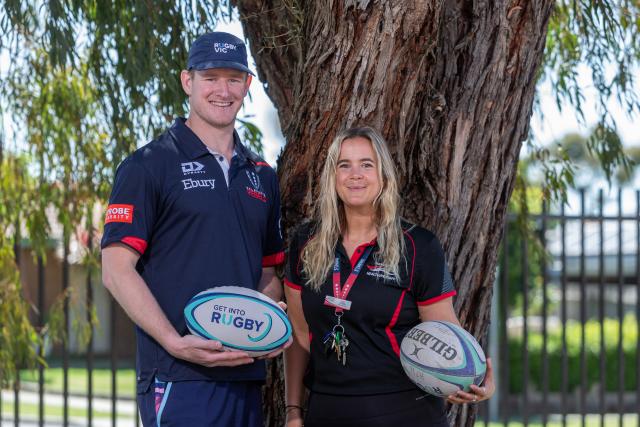 By Ethan Benedicto and Matthew Sims
Hampton Park Secondary College teacher and rugby academy program leader Erin Louden said receiving the award for Most Outstanding Rugby Academy School Ambassador at Rugby Victoria's main awards night recently was a "complete surprise".
"I've been working very closely with Rugby Victoria for a few years now with our rugby academy program at Hampton Park," she said.
"We opened our rugby academy to engage some disengaged students at our college and since we've opened the program we've had an increase in attendance and learning outcomes.
"The kids get accredited to give them another pathway when they leave high school."
Since announced in early 2020, the school's rugby academy program has delivered specialist training and coaching from Melbourne Rebels and Rugby Victoria to the students.
Ms Louden said the value of the program was instantly evident.
"It's their passion that drives me and providing another pathway for success for kids in the South East," she said.
"It gives the kids opportunity to develop their rugby skills but also their leadership, teamwork and collaboration."
Ms Louden said the school was looking forward to build and further influence a broader program towards launching a senior rugby academy in 2024.
"The program will have around 80 to 100 students which is really cool, and that will be launched properly in 2024," she said.
"It's important to support the development of sport in Victoria and working with Rugby Victoria is a real honour.
"They're so passionate at a grassroots level which really helps schools like Hampton Park to develop athleticism in young people."
Ms Louden said the program helped the students develop their personal and social capabilities like strong leadership and tight cohesion and teamwork.
"They also get trained up as accredited coaches and referees, so they are able to run their own training sessions, and their own tournaments inside the school and we're looking to expand that next year," she said.
"We are aiming to host a touch rugby tournament for local schools to get them involved in the sport as well."
Ms Louden said she entered into the academy program with no rugby experience.
"Through my own personal development and coaching and accreditations and working closely with the coaches at Rugby Victoria, I've completely upscaled in the sport," she said.
"On a personal level, it's so rewarding to see our students grow into really successful young people.
"We have students that are playing really high level rugby outside of school and I'm so proud of the commitment and effort that they show in the classroom and outside of it."