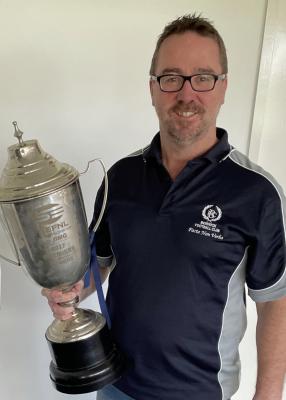 By Tyler Lewis
Glenn Gambetta has enjoyed one of the most successful tenures as a football club president in his half a decade stint as president of the Berwick Football Club.
Volunteering and the Berwick Football Club is in his blood, his mother Maxine is a life member of the club for her work as a volunteer.
"When my son was at the junior club, I coached the under-9's and 10's," Gambetta said of his first role as a volunteer.
"I was the vice president of football for five years, then I left the junior club and went up to the senior club.
"First year I was straight in as president, in 2015 they wanted me to take over the presidency, I said no because I still had one year left at the junior club.
"Someone stepped in for that year as president and I took over in 2016, it was tricky because you don't know who's who in the zoo, but we worked through it," Gambetta said.
Over his time Gambetta has seen plenty of glory, with the club winning a plethora of games and stacking the silverware cabinet at Edwin Flack Reserve.
"I think the foundations had been laid before I got there, they were certainly heading in the right direction after a few rough years," he said.
"For me personally, it certainly makes life easier when you're winning games, I've been rapt that we have been able to sustain it.
"I think getting to a level where we could move into the Eastern Footy League has been the biggest accomplishment, over the premierships."
Gambetta was at the top when the club made the bold move to the Eastern Football League, he touched on how that process came about.
"The old SEFNL was in a world of hurt, everyone was pulling out, we would've ended up with only six or seven clubs," he said.
"Clubs had to find a new competition, we had two choices, one was to go to Eastern, or the other was to join the Yarra Valley in the Outer East – we looked at both – lots of meetings.
"We ended up going with Outer East, more or less because originally we wanted to stick with clubs we had been with, but then we realised that it wasn't for us, so we ended up going to Eastern.
"It wasn't an easy process, it was very time consuming," Gambetta said.
All volunteers have something specific they love about their club, for Gambetta it is getting to put back into a great club with all his mates he played with in his career with the Wickers.
"I played all my football at Berwick, started at 10 and gave it away when I was 30," he said.
"The fact that I am involved at the club with guys I played my football with is the most enjoyable.
"They're on the committee or in fundraising roles or coaching roles, the other thing is now my son is at the senior club, they're the two I am enjoying the most."
Berwick has had some superstars walk through the doors, but Gambetta definitely has his favourites that he likes to keep a close eye for on a Saturday, while also revealing what he is most proud of.
"I love watching my son, he is in the reserves at the moment," he said.
"I love watching the old boys get up, Tucky (Travis Tuck), Madi Andrews.
"They're superstars but they just keep on keeping on.
"Leading a committee that has invested in the club and created – for the next generation – a facility with new lights, electronic scoreboard, goal netting, modernised social and change rooms and a new canteen."
The Wickers suffered a loss on Saturday, but are certainly getting their wish in a much closer competition.