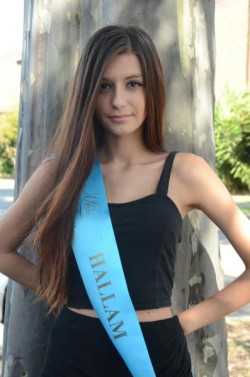 By LACHLAN MOORHEAD
OLYMPIA Hitner used to be told by bullies that she could never be a model.
It's all she's wanted to be for as long as she can remember and now at 16-years-of-age, Olympia has something to tell those same people that doubted her.
The Hallam teenager will be representing her suburb next month in the Victorian heats for the Miss Teen Galaxy Australia pageant, after being selected to compete alongside another 25 girls from the state.
When asked how she would make the world a better place, Olympia's response was simple.
"I want to bring more awareness to the fact that bullying isn't right. No one should feel like they have to leave school," she said.
"There's not enough help out there. Not everyone has enough money to call a 1300 number."
While she has previously competed in the Cosmopolitan Model Search 2013 and crowned one of three winners, Olympia has never participated in a pageant on this scale before and applied as soon as she discovered the competition on the internet.
"I saw the pageant advertised around Christmas time and applied straight away," Olympia said.
"I had to send in two photos, explain where I was from and answer a list of questions about myself."
If she is selected as one of the top 4 girls in the state, Olympia will go on to compete in the National competition in Queensland, with a possible berth in the international competition in America on the cards.
The Victorian competition will take place at the State Library Conference Centre in the city on Thursday 6 March.
Olympia, a student at Hallam Senior College, said it can be difficult to juggle her school commitments with her aspirations of being a model but said she is learning fast about time management. Especially when it comes to finding an opportunity to purchase all the dresses she'll need for the competition.
"I'm pretty confident and not that nervous about being in the pageant… maybe a little bit," Olympia laughed.
"I was waiting a long time to find out if I had been accepted for it, I actually thought I wouldn't be after a while."
Olympia, who is sponsored for the pageant by Kickstart Mobile Mechanics, will also be out among the community this week as she collects donations outside Coles in Hallam for the Make a Wish Foundation.