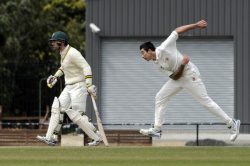 VICTORIAN PREMIER CRICKET
GEELONG  (18th) v CASEY-SOUTH MELBOURNE (13th)
Geelong Cricket Ground – 12 Nov and 19 Nov from 11am
ROUND 7 PREVIEW
Current Form:
Rd 6: Camberwell Magpies 7/255 def Casey-South Melbourne 252
Rd 1 replay: Melbourne 2/216 def Casey-South Melbourne 6/215
By Nick Creely
THE Swans have dropped off in the last few weeks, with losses to Camberwell and Melbourne putting a slight dampener on a strong start to the season.
But a trip over the West Gate Bridge looms as the perfect tonic, with the Cats sitting bottom of the table after six completed rounds.
The club has been hit by a hefty amount of injuries in all grades, in fact there are 13 in total that are currently unavailable, resulting in a different looking first XI.
Leigh Diston misses with a groin complaint, while like-for-like replacement Jackson Fry will also sit out with some niggles in what is a bitter blow.
But through injury comes the opportunity for the Swans to explore their depth and find out a little bit about their list.
There are two new faces in the first XI this round, Luke Manders and Cameron Brown.
Manders has had a strong start to the season for the Swans second XI in the middle order, striking 174 runs at an impressive average of 58.00, while Brown has taken 10 wickets at an average of 22.60.
Regardless of where the Cats sit on the overall ladder, they have some high quality talent that the Swans need to be wary of.
Players like Aaron Finch, who doesn't really need an introduction, Liam Buchanan and Jake Reed will all turn out on Saturday.
If the Swans do bat first, at least 250 is the par score considering the breadth of firepower in the cats arsenal.
Their early season achilles heel with the bat seems to have healed itself, with the Swans starting to gather some momentum with the blade.
However, as a result, the bowling has perhaps suffered slightly.
Last Sunday the Swans were unable to contain Melbourne with the ball, but there are positives.
They are a developing group, but once both the batting and bowling cohesively gel, the Swans are capable of beating anyone.
Casey-South Melbourne
Round 7 1st XI          2016/17 season statistics
Michael Wallace       5 matches, 111 runs, Avg 27.75, HS 39
Devin Pollock            5 matches, 124 runs, Avg 24.80, HS 43
Lachlan Sperling      5 matches, 133 runs, Avg 26.60, HS 42
Luke Manders          First game in the first XI
Ryan Eaton               5 matches, 152 runs, Avg 38.00, HS 64
Chris Bendek            2 matches, 21 runs, Avg 10.50, HS 11
Dylan Hadfield         5 matches, 109 runs, Avg 27.25, HS 37, 5 wickets, Avg 29.80
Nathan Lambden    5 matches, 62 runs, Avg 31.00, HS 38, 8 wickets, Avg 20.38
Brendan Rose          5 matches, 35 runs, Avg 17.50, HS 28, 8 wickets, Avg 21.88
Cameron Brown      First game in the first XI
Cam Dinger              2 matches, 15 runs, Avg 15, HS 15, 1 wicket, Avg 103.00
Players to watch:
Swans captain Lachlan Sperling has had an interesting start to the season. He has made scores of 22, 42, 31 and 38, and in those innings, has looked in fine touch. But for the Swans to make a large total, they need their skipper converting one of his starts. It seems a big innings is just around the corner, and this round provides the perfect opportunity.
Everyone knows just how good Aaron Finch is, and for the Swans he needs to be the main priority. At his best, Finch is one of the most destructive batsmen on the planet, but he has glaring weaknesses. For the Swans, they need to understand that Finch is vulnerable early in his innings, and that a tight line on off-stump is often his downfall. If they allow Finch off the chain early, the Swans will be in for a long afternoon.
For the Swans to stay in the finals mix, a win against the current bottom dwellers is a must. The injuries do hurt and are starting to stack up, but it is time to see what depth is at the Swans disposal.
If the Swans can re-discover their early season confidence, a win away from home will do wonders in the make-up of their season.