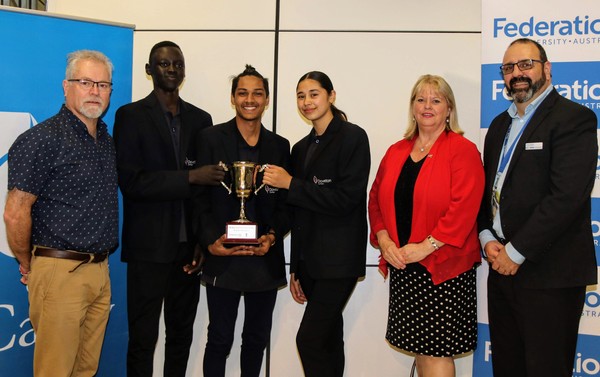 Federation University and the City of Casey provided high school students with a taste of university life.
The FedUni Casey Project saw 114 year nine students from seven schools across the city take part in a two-month project at the Berwick Campus.
The project saw high school students spend time on campus, meet academics and attend mini lectures before completing a group assignment on the theme of What Makes a SMART City?
Student teams could focus on the assignment from a business, health, education or environmental angle.
Understanding the potential of new and emerging technologies to create a smart city is the goal of the FedUni Casey Project.
This year's program culminated at a presentation night at the university.
The six finalist teams presented their assignment ideas to judges from the City of Casey and FedUni before the final winner was determined and announced on the night.
A team from Doveton College was named 2018's winners for its assignment 'Park to Go'.
The group, made up of Bol Ter, Safwan Khan and Anastasia Taylor, were presented with the official perpetual FedUni Casey Project trophy.
Greg Jakob, the University's Director of the Berwick Campus, said the program was designed to challenge students to come up with creative solutions to real-life problems, specifically for the City of Casey.
"This year's ideas were outstanding and all participants should be extremely proud of their hard work," Mr Jakob said.
"Federation University Australia is delighted to partner with the City of Casey for such an innovative program."
Mayor Amanda Stapledon, said, "I certainly didn't envy the judges; considering the excess of clever project ideas and the high-calibre of presentations, they had a very hard task in deciding the winner.
"Cr Wayne Smith was one of the judges again this year who had the difficult task of deciding the winner, and Cr Sam Aziz spoke about how the future for Casey is looking bright because of the smart thinking youth we have in this competition and in our City."