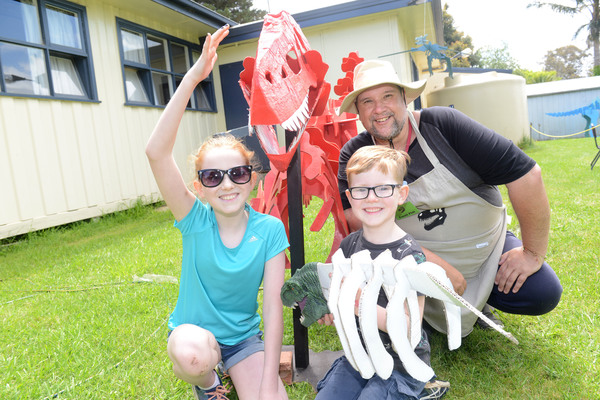 By Jessica Anstice
The beautiful gardens of the Narre Warren North Uniting Church were transformed into a Fossil Park on Saturday, 10 November.
To the sounds of dinosaurs roaring in the background almost 100 young children and adults met creator Phil Martin also known as 'Fossil Phil' and his 10 colourful handmade dinosaurs.
"One of the favourite activities of the day was the digging for fossils, and it was so much fun watching the children's faces light up with excitement when they dug deep into the sand and lifted up one of the fossils they had found," Mr Martin said.
"Some of the children even came prepared with their little buckets and spades."
The children also coloured in dinosaur pictures, searched for the hidden dinosaur nest and helped Mr Martin build one of his dinosaurs as he explained how fossils were formed.
"I was very impressed with the young children's knowledge of the dinosaurs displayed, pronouncing their names with ease as parents and grandparents watched on with pride," he said.
"We also had a great team of volunteers who helped make the day a successful one."