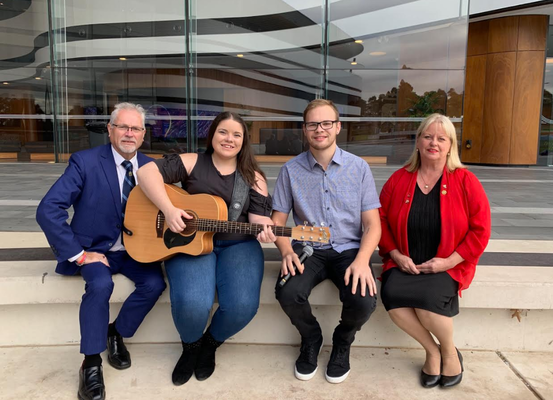 Two of Casey's brightest local performers are preparing to take their music to the international stage.
Sonyta Trahar and Matt Prins are fine-tuning their instruments and vocals, ready to showcase their talents in the Chengdu International Sister Cities Youth Music Festival in China, this July.
They will be joined by hundreds of artists from across the globe who will rock the live audience of more than 1000 and be broadcast to more than 5 million music fans online.
"Sonyta and Matt will represent the City of Casey in the festival to celebrate our thriving sister city relationship with Dujiangyan City, located on the fringe of Chengdu in the heart of China," City of Casey Mayor Cr Amanda Stapledon said.
Sonyta is a solo singer and songwriter with a list of credits to her name including graduating the Academy of Country Music and receiving a Lyrebird Award, while Matt Prins is a contemporary artist with competitive singing and performance experience including winning 2018 Casey's Got Talent.
"The vibrant and eclectic annual event provides a platform for artists to showcase their talents to an international audience."
"The event also attracts significant media coverage so it is a great opportunity to promote the City of Casey and enhance our international relations with Chengdu and our sister city as part of our Casey China Engagement Strategy," said Cr Stapledon.
Both artists were selected to represent Casey in the festival through a competitive process.
At its meeting on Tuesday 16 April, Council voted to cover the airfares of the two performers selected to represent Casey at the Festival at an estimated cost of $800 return.
In March council voted Cr Wayne Smith would lead a Cultural and Educational Delegation in China following the Chengdu International Sister Cities Youth Music Festival.
"The delegation consisting of up to four people will stay in China for an additional four days, with each day to focus on a key area of opportunity around tourism, culture and education," a council report said.
Casey director of city planning and infrastructure Peter Fitchett advised the cost estimates for the delegation to China, comprising a councillor, council officer and consultant would be $5,000 per person.
"Costs associated with the attendance of the delegation to the Chengdu International Sister Cities Youth Music Festival, including food, accommodation and local transport will be covered by the Chengdu Municipal Government as per the Council report from 16 April," he said.