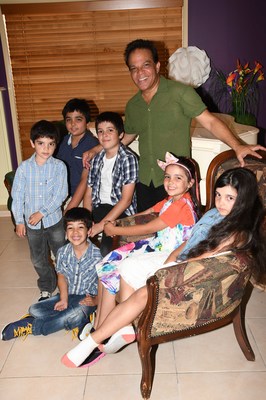 By Brendan Rees
Singer-songwriter Kerrigan La-Brooy says he's "pinching himself" as his first single of his latest album tops the global gospel charts.
The senior pastor of Gethsemane Church in Berwick says it's an achievement he never expected "at this level".
Two weeks ago his single 'Just A Little Talk With Jesus' debuted on five gospel charts in Australia and worldwide.
This included ranking fourth on the Airplay Gospel Express Charts, seventh on the Official Country Music Tracks Top 40 Tasmania – jumping an impressive 28 spots in its second week – and 24th on the European charts. It also debuted at number 21 on the Official Australian Country Songs Top 40.
"I never expected this sort of reaction; certainly not at this level for a gospel song in particular," the father of six said.
The single comes after Mr La-Brooy released his first gospel 10-track album called 'Thank You Precious Lord' in May.
Mr La-Brooy, who has won an array of Casey and state awards, particularly for his volunteer work with the Gethsemane Charity, said he had his fingers crossed to reach higher positions on the charts this week.
"I'm absolutely rapt and also slightly bruised because I'm still pinching myself," he said.
"Thanks to those of you, who keep requesting my songs, buying CDs, tuning into the radio stations and listening to my interviews.
"This would not be possible without your support so please accept my heartfelt appreciation.
"The reviews are very inspiring particularly when I'm told that my voice is making a positive difference in the world.
"Most of all thanks to the good Lord above for his favour and for making a way when it seemed like there was none."
The Sri-Lankan born musician had once toured the world until 2008 where he was also topping the charts before getting married and starting a family.