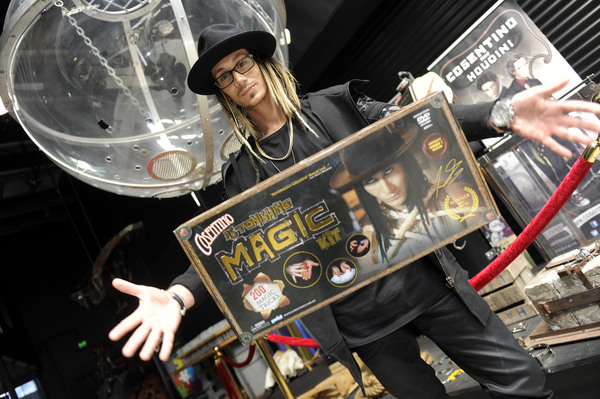 When grand illusionist Cosentino took his spellbinding show out on the road to regional areas in 2019, the houses were packed.
It was a rare opportunity for audiences to experience the escapologist in the live arena.
Now, by popular demand and with an exciting new show, Cosentino is touring again from this June.
The 90-minute show – Deception – sees Cosentino perform death-defying escapes to thrill the senses, mind-boggling stage illusions, and cutting-edge street magic that twists the view of reality.
Combined with his trademark blend of dance and magic, and that touch of hilarious audience participation, Cosentino promises to take fans on a journey that will not only captivate those who have long followed his career, but also the curious who are attending their first ever show, until the very last mind-bending moment.
Cosentino is recognised across the globe as Australia's most successful magician, and has spent years playing to packed houses and rave reviews around the world.
His nine prime-time television shows have been viewed by more than 100 million people across the globe, and broadcast in more than 40 countries. In fact, he was the first Australian magician to have his own television show.
Cosentino became a household name when he appeared on Australia's Got Talent in 2011, taking the runners-up position.
He has not only toured throughout Australia, but also New Zealand, Singapore, Thailand, Macau and South East Asia, filling theatres as audiences flock to experience his powerful and riveting productions.
He has multiple Merlin Awards to his name – the highest accolade awarded in the magic industry – acknowledging him as International Magician of The Year and International Escape Artist of The Year.
He sits in esteemed company; others who have been awarded the prestigious accolades, given out by the International Magician's Society in New York, include David Copperfield, Criss Angel and Penn and Teller.
He has also been awarded the The Levante Award (Australia) and The Brand Laureate Award (Malaysia).
Tickets for Cosentino's new show Deception go on sale to the general public from 9am AEST on Monday 12 April.
Cosentino will perform live at Bunjil Place Friday 13 August. For more information or to book visit www.bunjilplace.com.au or visit www.cosentino.com.au