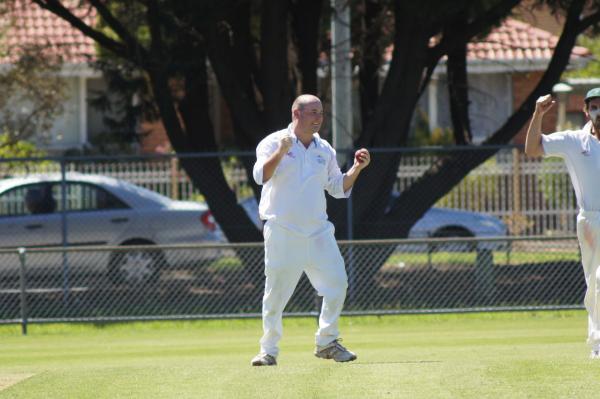 ALL hopes in the City of Casey fall to the lower turf divisions as the local contingent found themselves eliminated from the finals race in the last round of the DDCA home-and-away series.
PARKFIELD v HEINZ SOUTHERN DISTRICTS
The Cobras (92 and 79) threw away their chance to make the finals, after resuming at 1/12 in their second innings.
Resistance was sparse as captain Trevor Davies (21) anchored the late order effort with Justin Davis (16) after the side folded to 5/24. From there the wheels fell completely off as the team crashed.
With an 84-run lead, Heinz got close to pulling off the unlikely outright victory, but Parkfield inched towards the total, despite losing eight wickets. Parkfield's Tony Payne (44) did most of the heavy lifting at the start of the chase, before Paul Stockdale (4/31) spun the Cobras back into the match and into a 10-wicket match for himself.
It was left to Bears captain Steve Spoljaric (25 not out) to make the most important 25 of his career, guiding Parkfield to 8/88 and second innings points.
With only four points in the ledger, Heinz slipped behind Springvale South which defeated Coomoora to grasp the last finals spot by a nose and will finish fifth.
HALLAM KALORA PARK v DOVETON
Strong batting for Hallam Kalora Park (6/216) from Cory Booth (65 not out) and Nick Cox (68 not out) signed the relegation orders on Doveton (212).
Booth/Cox added an unbeaten 116-run stand for the sixth wicket to guide Hallam to a four-wicket win and finish their season on a positive note.
Doveton captain Ryan Hendy (2/75) toiled from his 28 overs while Brad Downe (3/35) was the best of the bowlers statistically.
From league powerhouse and semi-finalist last season, the wheels came off the Doves season and many will be left scratching their heads about where it went wrong.
Hallam will also rue this season as a missed chance, with a strong team at season's beginning failing to live up to expectation.
MORDIALLOC v NARRE WARREN
Heading into the finals as the top seed, Mordialloc (2/189) made light work of Narre Warren's 188, scooping up the runs in 51 overs via Leon Kennedy (87) and Tim Richardson (43) in particular.
Jarryd Straker (1/20) and Travis Walker (1/20) were the only wicket takers in the Magpies' last outing for 2012/13. Nirmal Wickramaratne (0/45) and Nathan King (0/50) toiled for 15 and 18 overs respectively.
After sitting fourth over the Christmas break, the New Year has been unkind to Narre Warren, going winless in 2013 it fell down the ladder to finish eighth.
NORTH DANDENONG v BERWICK
There won't be a back-to-back title defence by Berwick (168), unable to get close to North Dandenong's 264.
Chris Davies (54) batted manfully throughout the morning, with good help from Ryan Crawford (51), but outside of those two and Col Tucker (22), the Bears failed to find enough spark to get across the line.
Berwick will finish up seventh in the league, after dropping their last three matches to fall out of the finals in the last few weeks of the season.
TURF 2
KEYSBOROUGH v FOUNTAIN GATE
In the decisive fight for fourth, Keysborough (144 and 3/62) emerged victorious despite a well-meaning and fighting second innings from Fountain Gate (133 and 70).
Tim McLaren's (5/72) spinners proved effective against the Burra, taking them to 8/116 – 18 shy of first innings points. Geoff Bradshaw (3/30) was also effective with the ball. Michael Downie (41) dug in to get Keysborough to the points before being bowled 11 runs ahead.
Fountain Gate flew through their second innings, making 70 off 15.2 overs to create a fighting second innings total for Keysborough to reach.
Three early wickets weren't enough to derail the Burra – which reached the total in 15.1 overs to claim their spot in the finals.
HEINZ v CRANBOURNE
Cranbourne (4/353dec) batting trio Ben Maroney (153), Matt Darvell (100 not out) and Dan Diwell (77 not out) smashed the Cobras (69 and 42) around the park, before Te Ahu Davis (4/20) and Cam Kelly (3/5) finished the job in the second innings.
The Maroney/Darvell partnership reaped 227 runs, before Darvell reached his ton and compiled 117 runs with Diwell before Rob Cleland called his troops back in after a 63-over blitzkrieg. The rout was completed easily within 25 overs as Heinz exploded.
Somehow after a year of utter destruction, Heinz will survive in Turf 2, with St Brigid's/St Louis faring even worse.
Cranbourne will now face Silverton at home in the first semi-final.
LYNDALE v NARRE NORTH
Narre North (207) finished their year on a high, defeating finalist Lyndale (184) with Nathan Pulham (5/61) and Stephen Ryan (4/45) reaping the best rewards for the Foxes.
The Narre North-Fountain Gate match will be heated next year, with Fountain Gate's pursuit of finals costing Narre North a place – the Foxes finishing a point behind Keysborough, which reaped a maximum 10 points from their match against the Gators as opposed to Narre North's six for knocking off Lyndale.
NARRE SOUTH v SPRINGVALE SOUTH
The battle of the Souths was reaped by Springvale South (218), which held off Narre South (204).
Making the runs in quick time, Brendan Wilson (74) smashed 13 fours, but by the time he was dismissed, the rest of the order had collapsed around him to 6/121.
A last-ditch effort from Jack Ritchie (27 not out) went unrewarded as no-one stuck around with him as the Lions were bowled out 14 runs short with 20 overs remaining unused.
The Lions finished ninth in Turf 2.
DDCA TURF 1 LADDER
Mordialloc 12 2 2 52 1.41
Buckley Ridges 11 0 3 48 1.80
Dandenong West 11 0 4 42 1.81
Springvale South 11 2 3 42 0.99
Heinz Southern Districts 11 0 5 40 1.05
Parkfield 12 1 5 37 1.16
Berwick 12 0 6 34 0.94
Hallam Kalora Park 11 2 5 30 1.07
Narre Warren 11 0 7 24 0.77
Coomoora 11 0 7 24 0.71
North Dandenong 12 0 7 24 0.56
Doveton 11 1 8 15 0.63
DDCA TURF SEMI-FINALS (home team first)
Turf 1: Mordialloc v Springvale South, Buckley Ridges v Dandenong West.
Turf 2: Cranbourne v Silverton, Lyndale v Keysborough.
Turf 3: Buckley Ridges v Berwick (Power Res.), Hampton Park v Dandenong West.
Turf 4: Mordialloc v Fountain Gate (Sweeney 1), Coomoora v Silverton.
Turf 5: Lynbrook v Cranbourne (Springvale), Narre North v Dandenong West.